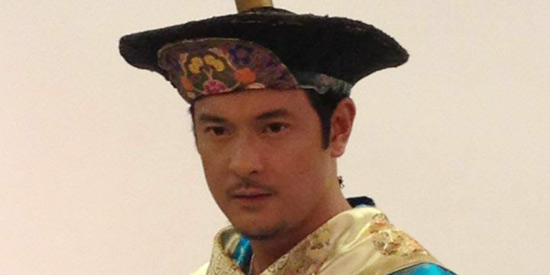 ---
Right after being honored as one of the Pinakakapuri-puring Artista ng Dekada (Most Acclaimed Artists of the Decade given by the educators and members of the academe) in the 10th Gawad Tanglaw (along with Cesar Montano, Sid Lucero, Emilio Garcia and Coco Martin), Allen Dizon is now busy with ABS-CBN's newest primetime soap opera. His schedule runs almost daily because of his scenes needed in Princess and I.


Allen plays Prachit, a royal servant in the Kingdom of Yangdon, who is responsible in the reversal of fate of the main character played by Kathryn Bernardo.


The moreno actor admits: "I am overly bad in my role, but I'm simply following orders by Ms. Gretchen Barretto's character. I am silent but deadly. Eventually, however, I will take on another road, which is the story's twist. I am a kontrabida with a conscience."


Allen considers Princess and I to be one of his most difficult TV projects to date.


ADVERTISEMENT - CONTINUE READING BELOW
"My last TV project was Nasaan Ka, Elisa? which was a suspense drama where I was a certified good guy. The setup was not as complicated. It's a huge one in Princess and I, really detailed. And my role is complex, evil with a defined humanity. It calls for a lot of nuance acting, you know, facial expressions and eyes to convey feelings. Also, Dzongkha, theBhutan language, is not exactly easy. We speak it in the taping, although what the viewers are seeing now has been dubbed in Tagalog."


Direk Dado Lumibao even called up the actor's manager, Dennis Evangelista, to tell him his observations about Allen. Aside from liking his restrained acting, the director is pleasantly surprised to find that Allen sounds like he's fluent in the Bhutan language.


Allen feels grateful to be part of this Kapamilya series. "Everyone in the cast is great, and I am so lucky to be working with them . . . Albert Martinez, Gretchen Barretto, Precious Lara Quigaman, Dominic Ochoa, Christian Vazquez and many more. I am flattered that Ms. Gretchen took note that it looks that I'm very good in the trailer. I am challenged to really make good."


ADVERTISEMENT - CONTINUE READING BELOW
Aside from appearing on Princess and I, Allen will also topbill the advocacy film Migrante (The Filipino Diaspora). He portrays the husband of Jodi Sta. Maria in this Joel Lamangan film, which is now in post production.


In Allen's next project, a film on labor unrest tentatively titled Obrero, he will portray a unique bida-kontrabida character.
SHARE THIS STORY " data-url="https://www.pep.ph/guide/at-a-glance/10172/allen-dizon-enjoys-playing-a-kontrabida-with-a-conscience" data-desc="Allen will be paired with Jodi Sta. Maria in the OFW film, Migrante." data-image="https://contents.pep.ph/images2/guide/1335259683_allen-dizon.jpg"> " data-url="https://www.pep.ph/guide/at-a-glance/10172/allen-dizon-enjoys-playing-a-kontrabida-with-a-conscience" data-desc="Allen will be paired with Jodi Sta. Maria in the OFW film, Migrante." data-image="https://contents.pep.ph/images2/guide/1335259683_allen-dizon.jpg"> " data-url="https://www.pep.ph/guide/at-a-glance/10172/allen-dizon-enjoys-playing-a-kontrabida-with-a-conscience" data-desc="Allen will be paired with Jodi Sta. Maria in the OFW film, Migrante." data-image="https://contents.pep.ph/images2/guide/1335259683_allen-dizon.jpg">
SHARE THIS STORY
" data-url="https://www.pep.ph/guide/at-a-glance/10172/allen-dizon-enjoys-playing-a-kontrabida-with-a-conscience" data-desc="Allen will be paired with Jodi Sta. Maria in the OFW film, Migrante." data-image="https://contents.pep.ph/images2/guide/1335259683_allen-dizon.jpg"> " data-url="https://www.pep.ph/guide/at-a-glance/10172/allen-dizon-enjoys-playing-a-kontrabida-with-a-conscience" data-desc="Allen will be paired with Jodi Sta. Maria in the OFW film, Migrante." data-image="https://contents.pep.ph/images2/guide/1335259683_allen-dizon.jpg"> " data-url="https://www.pep.ph/guide/at-a-glance/10172/allen-dizon-enjoys-playing-a-kontrabida-with-a-conscience" data-desc="Allen will be paired with Jodi Sta. Maria in the OFW film, Migrante." data-image="https://contents.pep.ph/images2/guide/1335259683_allen-dizon.jpg"> " data-url="https://www.pep.ph/guide/at-a-glance/10172/allen-dizon-enjoys-playing-a-kontrabida-with-a-conscience" data-desc="Allen will be paired with Jodi Sta. Maria in the OFW film, Migrante." data-image="https://contents.pep.ph/images2/guide/1335259683_allen-dizon.jpg">