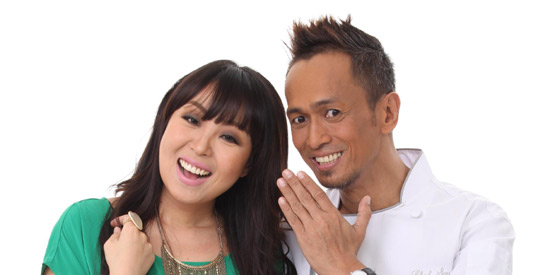 ---
Where there is food, there is love. Add to this mix the exciting element of dating and one gets a unique concoction of a dating game with a gastronomic twist.
Enter GMA News TV's Sarap To Heart. Set to air beginning this Saturday, April 28, Sarap To Heart is a one of a kind cooking show that features an array of delectable dishes paired with an opportunity to find true love.
In each episode, Sarap to Heart introduces a celebrity searcher together with two non-celebrity searchees. Here comes the show's gastronomic twist where – unlike the typical dating games – the celebrity searcher will be asked to choose his (or her) preferred searchee based not on physical attributes or intelligence, but based on the searchees' creative, lip-smacking meals!
"We are very excited to bring something new for the 'sarap' series. From Sarap At Home now with Sarap to Heart. It's a new kind of program to our viewers in GMA News TV. This dating plus cooking show is designed to be fun and light-hearted; giving a chance for people with great personalities to meet their favorite Kapuso stars and with an added bonus of sharing sumptuous recipes and cooking techniques," says Gigi Santiago-Lara, GMA Network's AVP for Entertainment TV.
ADVERTISEMENT - CONTINUE READING BELOW
Sarap to Heart program manager Charles Koo invites viewers to join the show saying "Sarap to Heart is still open for anyone who wants to have a special moment with your Kapuso celebrity crush. So we invite single men or women, 18 to 30 years old to send us basic information and recent photos of yourself to saraptoheart@yahoo.com so we can schedule you for an audition. Who knows, you just might end up as a searchee in our dating show with a delicious twist."
Serving as program host is the bubbly and energetic Sam Oh. Sam, who has already appeared in a number of cooking shows including Sarap At Home, True Confections, and Delicioso, is again set to share with the viewers her gift of gab and passion for food.
Joining her is culinary expert Chef Sau Del Rosario who is very knowledgeable about world-class cuisines. A graduate of the University of the Philippines, Chef Sau is the man behind restaurants such as Museum Café in MakatiCity, Chelsea Market and Café inTaguig City and even Kingdom in Angeles City, Pampanga.
ADVERTISEMENT - CONTINUE READING BELOW
Sarap to Heart, sponsored by San Marino Corned Tuna, is served three times daily: 10am, 11.20 am and 5.50pm on weekdays; 11am, 12.45pm and 6pm on Saturdays; and 9.20am, 12.45pm and 6.15 pm on Sundays. Sarap to Heart airs on GMA News TV Channel 11.