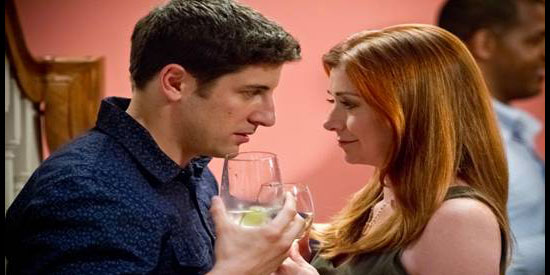 ---
Since the entire original cast wanted to come back, populating American Pie: Reunion was easy. Scriptwriter-director Jon Hurwitz observes: "What's been exciting about the entire cast is that everyone came here motivated to kick ass. They care about their characters, and it was fun getting input from the actors. We were writing it as fans, and we were writing it as filmmakers. But talking to each of these actors to shape the character and where they are now with them has been amazing."
Jason Biggs returns to star as the perpetually horny Jim, and he now tackles the additional role of executive producer. "Jason is unbelievable," commends Hurwitz. "Every take, he gives you so many different options. He's absolutely fearless. When we were in preproduction and doing rewrites, we discussed the idea of adding one more set piece for him. I sent him an e-mail asking, 'Do you have any interest in showing your dick?' His reply was, 'I will do anything for comedy, as long as it's funny.' And he did."
ADVERTISEMENT - CONTINUE READING BELOW
"As an actor I went further than I've gone before," reveals Biggs. "We had the freedom to go to these places comedically that many actors don't. That's why we've been able to avoid being gratuitous with the comedy. This series has never been about being gross just to be gross or trying to insert shock value. It's all earned because these are characters people relate to. There's real heart in the movies, in all of them."
Biggs has long believed what many of us see in the films of the franchise: The wildness of the antics is balanced by heart. Still, he's not above going, ahem, balls-out for a laugh. "I hope people respond, because I put myself out there," he says. "I put out more than I've ever shown, and I'm not talking emotionally. I literally showed more of my body than ever before. I don't know how to top that…maybe the next stop is porn?"
ADVERTISEMENT - CONTINUE READING BELOW
Alyson Hannigan returns as sexy band geek Michelle, now a mother of a young son. She is married to Jim and taking on the role of the quintessential mom/wife, while fighting to keep her sex drive alive. "Very much like Stifler, Michelle was sort of one-note in the first film," explains Hurwitz. "It's fun that as the franchise has grown, she has developed into much more of a three-dimensional character." The past 13 years have been good to the actress, who has become one of the most recognizable faces on TV with her enormously successful CBS series. "We're huge fans of Alyson's," says Hayden Schlossberg, the co-director of this movie. "We love her on How I Met Your Mother and in these movies. She's got great timing and great heart. With just a look, she brings so much."
Discussing her character, Hannigan says: "Obviously, Michelle has aged, and I was worried about how to bring her quirkiness into an adult level without her seeming like she was still in high school. But Jon and Hayden did such a great job with the script, and it wasn't hard to find a happy medium. She has matured, but she's still quirky."
ADVERTISEMENT - CONTINUE READING BELOW
When it comes to her on-screen husband, Hannigan was happy to be part of the reunion. She reflects: "Jason and I have always had such a great chemistry and rapport, and it's fun to play off of one another. We don't have to work hard to create chemistry; it's just effortless."
Seann William Scott returns as the culture-defining Stifler and also earns his stripes as an executive producer on the film. Comments Schlossberg: "Seann's such a sweetheart, and yet when he turns it on as Stifler, he can make you easily laugh. His face is chiseled; it's like a comedy weapon. He knows how to use his eyes, smile and his jawline, and he has great comedy instincts. The combination gives him a unique energy that is virtually trademarked to this character."
"What was fun for us is that we had Seann stretch his skill set beyond what you've seen with Stifler," adds Hurwitz. "Seann's fearless, and we get to be emotionally invested in the character now. He will bring you tons of laughs, but a lot of the emotional core of this movie is through Stifler. Seann got into it, and you feel for Stifler." Still, one of the scenes the directors wanted to pay homage to was Stifler walking through parties—shooting on his Steadicam and harassing women in the office, as opposed to at his high-school house parties. That Stifler never will change.
ADVERTISEMENT - CONTINUE READING BELOW
The actor says that working again with his longtime friends brought back a flood of memories. When Scott got the script for the first American Pie, he had been in Los Angeles for three years, auditioning while he worked at Home Depot. "The character wasn't very likable at all," Scott recalls. "He was in three scenes, and he was just a straight-up jerk. I was thinking, 'I'm not sure I would even want to play this role.' But I felt comfortable taking a risk." Scott says he came up with a character who was a combination of five different guys with whom he'd gone to school. He added a bit of improv, and Stifler was born. "I wanted him to be the guy you're not supposed to like."
Scott acknowledges that the role "is so much more fun now. My sense of humor has changed. I'm weirder and a little bit bolder. It's fantastic to play a character who is in his thirties and doing things that other 30-year-olds really want to do. Stifler is the person who hasn't changed, but the world around him has. He's still living in the world of high-school."
ADVERTISEMENT - CONTINUE READING BELOW
Chris Klein is back as Oz, now a sportscaster and celebrity dance contestant on the film's fictitious dance show. "Chris trained for a couple of months just prepping for this," relates Hurwitz. "One of our favorite days of the shoot was when we had a whole studio audience, and it felt like we were doing Dancing With the Stars. Chris was performing the dance he worked so hard on in front of everybody."
Welcome to the reunion of the Class of 1999 from East Great Falls High. In the original comedy American Reunion, all the American Pie characters we met a little more than a decade ago return for their high-school reunion. In one long-overdue weekend, they will discover what has changed, who hasn't and that time and distance can't break the bonds of friendship.
Still among the original American Pie cast are Jim (JASON BIGGS) and Michelle (ALYSON HANNIGAN), now married while Kevin (THOMAS IAN NICHOLAS) and Vicky (TARA REID) said goodbye. Oz (CHRIS KLEIN) and Heather (MENA SUVARI) grew apart, but Finch (EDDIE KAY THOMAS) still longs for Stifler's Mom (JENNIFER COOLIDGE). And Stifler (SEANN WILLIAM SCOTT) remains the same as he ever was.
ADVERTISEMENT - CONTINUE READING BELOW
Also still very much in is comedy legend EUGENE LEVY as Jim's Dad, NATASHA LYONNE as the sexually-wise Jessica, JOHN CHO and JUSTIN ISFELD as the world's biggest MILF enthusiasts, CHRIS OWEN as The Shermanator and SHANNON ELIZABETH as Jim's first on-screen tryst, Nadia.
They are joined by a supporting group of actors new to the series: DANIA RAMIREZ as Selena, the East Great Falls ugly duckling whom no one thought would become so gorgeous; KATRINA BOWDEN as Mia, Oz's vapid model girlfriend; CHAD OCHOCINCO as himself, playing Oz's on-air co-host; JAY HARRINGTON as Dr. Ron, Heather's pompous cardiologist boyfriend; ALI COBRIN as Kara, Jim's sexy next-door neighbor; and CHUCK HITTINGER as AJ, Kara's idiot boyfriend.
Amerian Pie: Reunion is a Universal Pictures Presentation directed by Jon Hurwitz & Hayden Schlossberg. It is distributed locally by United International Pictures through Solar Entertainment Corporation. It will be screened in Philippine cinemas starting May 2, 2012.
ADVERTISEMENT - CONTINUE READING BELOW