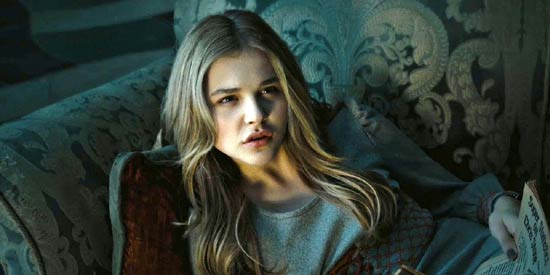 ---
Chloe Grace Moretz has emerged as one of the film industry's most sought-after young actresses. Last year, she starred in the award-winning fantasy adventure Hugo, directed by Martin Scorsese, winning a People's Choice Award in the category of Favorite Movie Actress Under 25. In addition, the National Association of Theatre Owners just named her the Female Star of Tomorrow Award, presented at the 2012 CinemaCon.

Now, Moretz stars opposite Johnny Depp in Tim Burton's big-screen adaptation of the TV vampire classic Dark Shadows from Warner Bros. Pictures.


In the film, Barnabas Collins (Depp), an 18th-century lothario, breaks the heart of a heartless witch by the name of Angelique (Eva Green) who dooms him to a fate worse than death—turning him into a vampire, and then burying him…alive.

Nearly two centuries later, Barnabas is inadvertently freed from his tomb and emerges into the very changed world of 1972, a stranger in an even stranger time. Returning home, he finds that his once-grand estate has fallen into ruin, and the dysfunctional remnants of the Collins family have fared little better, each harboring their own dark secrets.

One person in the Collins household who wants nothing to do with her long-lost relative is 15-year-old Carolyn, played by Moretz. Carolyn's first impression of Barnabas is that he is, in a word, "weird." And when he seeks out her advice on how to woo a woman of the modern age, namely Victoria (Bella Heathcote), their conversation only serves to reinforce that assessment.

Moretz offers, "My character is a very eccentric teenager of the '70s. She wants to be so different from the rest of the family. As soon as she turns 16 she plans to live in New York and be who she wants to be."
ADVERTISEMENT - CONTINUE READING BELOW

"Chloë latched right onto that troubled teenager thing, which I don't think she is, but she did it really, really well," Burton declares. "She tapped into that internal anger and the feeling like you're alone and isolated—that strange transitory time when you're changing from a kid into something else."

Moretz previously starred in three very different films, including Matthew Vaughn's hit actioner Kick-Ass, based on the comic book by Mark Millar, and also starring Nicolas Cage. For her performance as the ferocious Hit-Girl, whose toughness belies her young age, Moretz won two MTV Movie Awards, for Best Breakout Star and Biggest Badass Star. She was also nominated for dual Critics' Choice Awards for Best Young Actor, for her role in Kick-Ass, as well as for her performance as a young vampire in the thriller Let Me In, written and directed by Matt Reeves. In addition, Moretz won an Empire Award for Best Newcomer, recognizing her work in both films. She was also seen that year in the family comedy Diary of a Wimpy Kid, adapted from Jeff Kinney's popular children's book series.

She won her first major film role in Michael Bay's remake of The Amityville Horror, in which she played the youngest member of the terrorized Lutz family, with Ryan Reynolds. Moretz's additional film credits include the horror thriller The Eye, and the acclaimed independent film (500) Days of Summer, playing the little sister of Joseph Gordon-Levitt's character.

Moretz has a number of films upcoming, including the indie film Hick, in which she stars with Blake Lively, Juliette Lewis and Alec Baldwin; the anthology film Movie 43, as part of an all-star cast; and the remake of the classic Stephen King thriller Carrie, in which she will play the title role.
ADVERTISEMENT - CONTINUE READING BELOW

Opening across the Philippines on May 10, Dark Shadows is distributed by Warner Bros. Pictures, a Warner Bros. Entertainment Company.