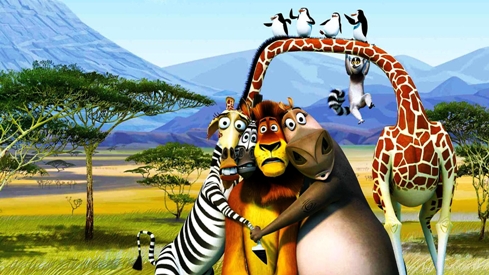 ---
Talk about taking the long way home…
In the third installment of the billion-dollar Madagascar franchise, Alex (Ben Stiller), Marty (Chris Rock), Gloria (Jada Pinkett Smith) and Melman (David Schwimmer) are determined to make their way back to The Central Park Zoo in New York City.


Leaving Africa behind, they've taken a detour and surfaced, quite literally, in Europe — on a hunt for the penguins and chimps who have managed to break the bank of a Monte Carlo casino. Soon the animals are discovered by dogged French animal control officer Capitaine Chantel DuBois (Frances McDormand) who does not appreciate zoo animals running wild in her city and is thrilled by the idea of hunting her first lion.


The Zoosters find the perfect cover in a down-and-out traveling circus where they hatch a plan to reinvent the circus, discover a few new talents and make it home to New York alive.
For the first time in 3D, the Zoosters of Madagascar are on the run, hiding out with the circus, doing death defying tricks and making new friends.
The filmmakers' desire to take the characters to new places — literally and figuratively — continues in Madagascar 3. Incorporating Ralph Waldo Emerson's inspirational quote, "Life is a journey, not a destination" as their maxim, the filmmakers' chose to explore themes of what it means to be home, having confidence and finding one's passions. As a result, Alex, Marty, Melman and Gloria have found a better sense of who they are, while grappling with the wilds of Madagascar and Africa.
ADVERTISEMENT - CONTINUE READING BELOW
As director Darnell puts it, "That's what has been the core desire of our guys from the beginning: To identify their place in the world."
And what a world it's turning out to be for them. Their journey took the Zoosters from New York, to the eponymous island of Madagascar, then to the wilds of Africa. In the latest installment, the adventure unfolds all across Europe, which naturally calls for a grander scale visually and in the storytelling.
Says director Conrad Vernon: "The scope is a lot bigger in this one. We're going to a lot of different places and meeting a lot of new characters. We're in Rome, the Swiss Alps, London, Monte Carlo and New York."
What's more, for the first time, a Madagascar chapter is being filmed in 3D. Serendipitously, when they looked back at the earlier Madagascar films to figure out what they would have to differently this time around, the filmmaking team found that 3D is a process their franchise is well suited for.
Says Darnell: "We realized, stylistically, we were already making 3D movies. Because of the films' comedic tone, we were often doing things that put stuff out in front of the camera. Once we recognized that our cinematography and our comedy really lent themselves beautifully to the 3D world, we really didn't have to change much of what we were doing. But taking our animals into a circus automatically gives us these wonderful opportunities — we're moving not just across the surface of the earth, we're moving up in the air, flipping, rolling and flying — to work in 3D, of course."
ADVERTISEMENT - CONTINUE READING BELOW
Adds director McGrath: "3D just gives you so many more tools to work with. It's immersive. You can underscore an emotional scene as much as you can the action."
Just as satisfying was the ability for Darnell, McGrath and Vernon, all long-time friends and DreamWorks Animation veterans, to work together in the same capacity. Though Darnell and McGrath helmed the first two films, Vernon had served as a creative consultant and voiced Mason the chimp, even as he was helming Shrek 2 and later, Monsters vs. Aliens. Three directors is definitely not a traditional route, but on this film, it was a real dream of the filmmakers to work together and share in the creative process.
DreamWorks Animation SKG Presents Madagascar 3: Europe's Most Wanted, a PDI/DreamWorks Production featuring the voices of Ben Stiller, Chris Rock, David Schwimmer, Jada Pinkett Smith, Sacha Baron Cohen, Cedric The Entertainer, Andy Richter, Frances McDormand, Jessica Chastain, Bryan Cranston and Martin Short. The film is directed by Eric Darnell and Tom McGrath,
Madagascar 3: Europe's Most Wanted is distributed by United International Pictures thru Solar Entertainment Corporation. Showing soon at your favorite theaters.