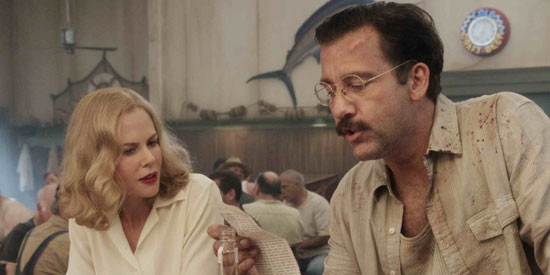 ---

Academy Award® nominee and Golden Globe winner Clive Owen and Academy Award® and three-time Golden Globe winner Nicole Kidman star in the title roles of HBO Original Movie Hemingway & Gellhorn. It will premiere for the first time in Asia on Monday, June 4, at 7:15 pm exclusively on HBO.

Directed by Academy Award® nominee Philip Kaufman, Hemingway & Gellhorn recounts one of the greatest romances of the last century: the passionate love affair and tumultuous marriage of literary master Ernest Hemingway and trailblazing war correspondent Martha Gellhorn. Viewers will get to follow the adventurous writers through the Spanish Civil War and beyond. They wre able to penetrate social circles that included the elite of Hollywood, the aristocracy of the literary world and the First Family of the United States. As witnesses to history, they covered all the great conflicts of their time, but the war they couldn't survive was the war between themselves.


HBO.com reveals this Q&A with lead actress Nicole Kidman:


Q: What drew you to this project and to playing Martha Gellhorn?
I actually didn't know anything about her. I was giving a speech in San Francisco for an organization I work with whose primary focus is violence against women. Nancy Pelosi was at the event and Phil Kaufman (the director of Hemingway & Gellhorn) happens to be related to Nancy (his son is married to her daughter), so he was at the function. His wife had recently passed away and I knew that he and she had this incredible love story in their life and their work. When I saw him, I felt his pain and his grief. I went over and asked him how he was. You know when you meet someone and you just connect instantly? You say "Oh, I know you. And I like you." That doesn't happen very often. When I went back to LA, I asked my agent, "Isn't there anything Philip Kaufman's working on?" There wasn't at the moment but then my agent sent me the script and said, "This isn't for you, but Phil has been working on this with Jerry Stahl." And I read it and said: "I want to do it!" And that was the beginning of a long process. We had to wait for Clive for a year. We were so committed to the story that we agreed to wait. I don't believe in deadlines and time lines. I believe there are other things involved in the destiny of a project.


Q: So you delved into Martha Gellhorn's life during that time?
Yes, I fell in love with her through my research. Phil was already in love with her. She's definitely his kind of woman.

Q: She was a force of nature.
And at that time, what it took to do what she did! There are so many female stories like this that just don't get told so when the chance comes along like this with someone like Phil and HBO -- it's a celebration of her. And then you delve into the relationship with Hemingway, which I find fascinating. That kind of thing is once in a lifetime.


Q: When you delved into her writing, what did you most relate to about her?
I suppose her compassion. And the way in which she wanted to give a voice to people who don't necessarily have one. At that time no female had gone and written about what it was like for the ordinary person during this war-ravaged time. She really paved the way for so many journalists. I love that she didn't really take no for an answer. And she was told no many times. I love her persistence and determination and that it comes from such a pure place. I grew up with a mother whose social conscience is very strong and her willingness to take on the system sometimes...so I suppose in some ways it's an homage to my love for my mother and what she instilled in me. I also think women get judged very harshly and I'm always trying to break that down.


Q: You've played a few famous and iconic women -- you don't seem to shy away from it.
Well it takes me awhile to get there! But I suppose that's something that Martha and I share. I'm drawn to what I'm scared of. I'm never going to let fear dominate my life. Many other things I've let pull me off my path, but not fear. And it's not that I don't have it. I have it in spades. So much that it could probably render me inactive if I gave into it.


Q: What are the ways you get past it to play these roles?
By trying to find the essence of the women. When there's all this other stuff that surrounds them it can be intimidating. I suppose it's similar to working with a director like [Stanley] Kubrick, who is revered. He would always say: I'm just a person trying to come up with ideas. He said, you can't ever put someone on a pedestal when you're in a creative place because it makes it impossible to work together. And so much of creative work is throwing out stupid ideas and trying stuff. And I suppose that's how I approach the characters. I say: When you take the pedestal away, what is the heartbeat of this person? How do I get in?


Q: There's a Hemingway quote: "If two people love each other, there can be no happy end to it." What do you think of that?
I really hope that's not true! Though I do believe all relationships end. It's just, how do they end? Some end through death. Some end through choice. Some end when one person wants it to end and the other doesn't. But they do all end sometime. To fear the end? There we go: I come back to fear. I think Hemingway and Gellhorn didn't bring out the best in each other. They may have in their work, but in their personal life they didn't. And that's a pretty hard thing to stay in through the duration of your life. But they were certainly riveting. It was so great playing her.


Hemingway & Gellhorn premieres on Monday, June 4, at 7:15pm exclusively on HBO / 6:15 pm on HBO HD. Other play dates on HBO: Sunday, June 17, at 7:15pm and Friday, June 22, at 12:55pm.
ADVERTISEMENT - CONTINUE READING BELOW