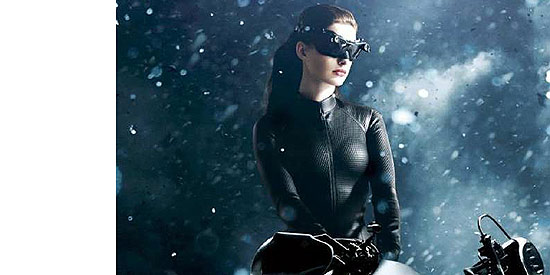 ---
Warner Bros. has released new character banners for Christopher Nolan's The Dark Knight Rises.

The banners again individually feature Batman, Catwoman and Bane in what the studio calls "Snow" series.

Leading an all-star international cast, Oscar® winner Christian Bale again plays the dual role of Bruce Wayne/Batman. The film also stars Anne Hathaway as Selina Kyle/Catwoman; Tom Hardy as Bane; Oscar® winner Marion Cotillard as Miranda Tate; and Joseph Gordon-Levitt as John Blake.

Returning to the main cast, Oscar® winner Michael Caine plays Alfred; Gary Oldman is Commissioner Gordon; and Oscar® winner Morgan Freeman reprises the role of Lucius Fox.

The screenplay is written by Christopher Nolan and Jonathan Nolan, story by Christopher Nolan & David S. Goyer.

The Dark Knight Rises is a presentation of Warner Bros. Pictures, in association with Legendary Pictures. Slated for release beginning July 19, 2012, the film will be distributed worldwide by Warner Bros. Pictures, a Warner Bros. Entertainment Company.