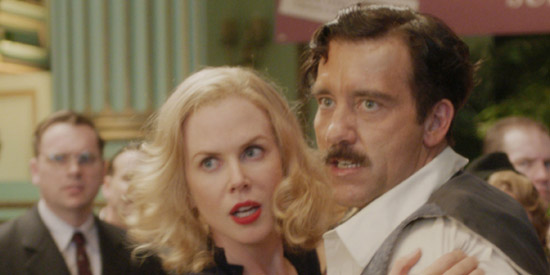 ---
Academy Award® nominee and Golden Globe winner Clive Owen and Academy Award® and three-time Golden Globe winner Nicole Kidman star in the title roles of HBO Original Movie Hemingway & Gellhorn. It will premiere for the first time in Asia on Monday, June 4, at 7:15 pm exclusively on HBO.

Directed by Academy Award® nominee Philip Kaufman, Hemingway & Gellhorn recounts one of the greatest romances of the last century: the passionate love affair and tumultuous marriage of literary master Ernest Hemingway and trailblazing war correspondent Martha Gellhorn. Viewers will get to follow the adventurous writers through the Spanish Civil War and beyond. They wre able to penetrate social circles that included the elite of Hollywood, the aristocracy of the literary world and the First Family of the United States. As witnesses to history, they covered all the great conflicts of their time, but the war they couldn't survive was the war between themselves.


HBO.com reveals this Q&A with lead actor Clive Owen:
Q: You've talked about doing quite a bit of research for this role.
I decided I needed time to immerse myself in everything Hemingway. I read everything he wrote. I went to Cuba and spent a week there and hung out with the people who run the Hemingway House. I went to Paris to all the haunts and places he'd lived.

Q: Why did you feel that was so important?
I don't think you can take on a character like Hemingway and treat it like any other film. There's a responsibility. And you have the advantage that he was a real living person; there's so much information out there. I needed to get as much a flavor of the man as possible.

Q: Was there anything in particular that you felt unlocked him for you?
There's no doubt that drink figured heavily wherever I went. [Laughs] It was amazing how much of a traveler he was, really. The fact that at nineteen he went off and volunteered and got bombed in Italy, and lived in Paris and spent time in Spain and eventually did a lot of travelling in Africa and bought the house in Cuba.

Q: It signifies a certain kind of bravery.
Especially in that time. Even now people don't travel as much as he did. The effort and the commitment -- but also that he immersed himself in the cultures of the places he visited. What's incredible is the legacy he left everywhere. You go to Havana and he is everywhere. The place is full of Hemingway. He has a huge presence in Paris. The same in Madrid. I think it's incredible that a writer has left such a mark around the world.

I went to a small port 45 minutes outside Havana where he kept the Pilar [his fishing boat]. It's the most modest, out of the way place you can imagine. And here's a guy who's the most famous writer in the world who could be hanging around the trendy places of New York every night and getting tons of attention but he chose to be out in Havana spending most of his nights in the bars in this town talking to fishermen. There was something I respected about that. He was a great fan of people who were good at what they did, whatever that was -- a good soldier, a good fisherman -- he liked to hang with real people.



Q: As you were doing all of your research, what did you find you related to most about him?
I think what was pretty incredible was that in spite of the stories of the epic nights of boozing, there was the discipline of the work. He was up at the crack of dawn and writing for 6-7 hours every day regardless of what had gone on the night before. And I felt very lucky to have been pushed into reading everything that he wrote and to realize how brilliant a writer he was. He's been out of fashion for awhile. I don't know if it's because of the masculinity of everything -- the bull fighting, the hunting in Africa. But his writing is so fine and so intelligent. And it's sensitive as well. It's wrong to think of him as macho -- it's not all bravado, there's huge sensitivity in his writing. The economy in his language, the stripping down -- it's the beginning of noir, really. The way he could construct sentences that pack information and look relatively simple but it's deceptively difficult. He can create a whole world and a whole relationship very quickly and succinctly.

Q: Do you see a parallel there to the craft of acting?
I think people often look at people and just get sound bites and think that's what they are like. But there is a craft that he applied himself to. The public bit of him was the stuff in the bars. But privately -- in the house in Cuba he called guests "the enemy of creativity." [Laughs] He was committed in what he was doing.

Q: Was there a particular aspect of playing him that daunted you?
At the end of the day, you can't plan an icon like that. You have to immerse yourself and then step off and play what's in the script. One of the beauties of the script is that it truly captures the spirit of Hemingway's writing and made it feel organic.

Q: What do you think it was that drew him so strongly to Martha Gellhorn?
I think he met his match really. I think she was fiercely intelligent and she could drink as much as him -- which I'm sure was a big attraction. He was at the height of his powers and fame and met this woman who blew him away. She also had a great attack on life. And it was crazy and passionate and lasted only those seven years. But for me it was always a story of how he really set her on her journey of becoming a war correspondent. He got her going and encouraged the whole thing in Spain and from there, she got very serious about it. I think the tragedy for him is that he'd have preferred that she had stayed with him and lived her life through him. And the fact that she became passionate and wanted to travel to all these places and became serious.

Q: It's an interesting ambiguity that he both pushed her towards that but then sabotaged her later on.
I think it hurt him. He would have preferred her to live with him in Cuba and live her life through him a bit more. Another very interesting thing when you track their relationship is that when you look at all of the pictures of that time, he aged a lot in their time together. My theory is that the drinking had a big part in it -- I don't think you can sustain that kind of alcohol consumption. You look at pictures of them when they first got together and he looked strong. And by the end, you just wouldn't believe it's only been seven years. It was a very epic and consuming relationship.

Q: There's a quote from Hemingway: "If two people love each other, there can be no happy end to it." What do you think of that?
[Laughs] Well I'd say it was certainly the case in their relationship!
ADVERTISEMENT - CONTINUE READING BELOW
Hemingway & Gellhorn premieres on Monday, June 4, at 7:15pm exclusively on HBO / 6:15 pm on HBO HD. Other play dates on HBO: Sunday, June 17, at 7:15pm and Friday, June 22, at 12:55pm.