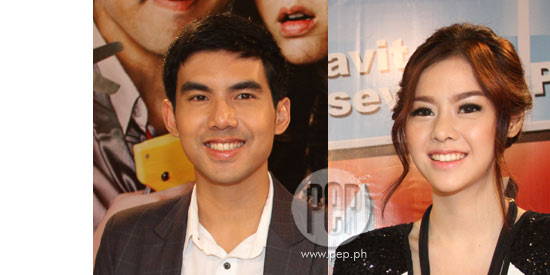 ---
PHOTO CAPTION: Chantavit "Ter" Dhanasevi (left) and Preechaya "Ice" Pongthananikorn (right) graced the Manila premiere of their movie ATM last Sunday, June 3.

PHOTO BY: NOEL ORSAL


Filipino fans got a rare treat of seeing two of Thailand's most beloved artists--actors Chantavit "Ter" Dhanasevi and Preechaya "Ice" Pongthananikorn--attend the Manila premiere of their latest movie titled ATM. The two walked the red carpet at SM Megamall last June 3 to meet their Filipino fans for the first time.
ATM is not the first movie where the Filipino audience actually got to see the charming Ter Dhanasevi. He was recently seen in Hello Stranger, a Thai romantic movie about a couple who meet each other in Seoul, Korea.


Hello Stranger was aired by ABS-CBN after the success of the blockbuster Thai movie, Crazy Little Thing Called Love (starring heartthrob Mario Maurer).
This trip marks Dhanasevi's first time to visit the Philippines. In fact, the actor revealed that when he learned that he will be going to visit here in the country, he quickly went online to get to know more about the Philippines.


Asked if he knew any Filipino words, the charming actor brought out his cell phone and said that he jotted down a few words that he learned earlier that day. The audience was appreciative of Ter's short greeting "Mabuhay" and "Salamat," much to the delight of the fans.
SYNOPSIS.
Set in the corporate world, the characters portrayed by Ter and Ice are bound by a non-fraternization policy in the company. Simply put, in their case, office romances are frowned upon and those who are caught are faced with severe consequences.


Ter plays Sua, a bank employee who has a secret affair with his boss Jib, played by Ice. For several years, the two hid their relationship, but due to the hassles of keeping their relationship under wraps, they both decide that the best solution to end their problem is by getting married. Conflict arises when neither of them wants to resign from their company. Things turn into a hilarious competition between the couple because of an ATM that malfunctions and gives out money to the wrong people. They both agreed that the one who fails to solve the ATM fiasco will have to resign.
ADVERTISEMENT - CONTINUE READING BELOW
ATM has been a huge hit in Thailand, garnering 152 million baht (roughly P208 million) in Bangkok alone, making it the highest grossing film in 2012 and 5th in the list of Thailand's all-time biggest hits. It has previously been shown in other Asian countries such as Singapore and Indonesia. It is also set to be released in the neighboring countries of Taiwan and Malaysia.
In the Philippines, Star Cinema together with Thai distribution company Suraya Filem Production and Distribution will bring ATM to select SM Cinemas. Regular screenings will start this Wednesday, June 6, 2012.