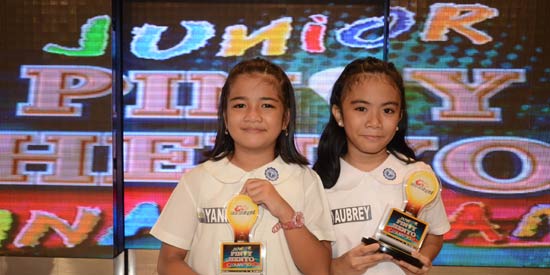 ---
Paco Catholic School's Aubrey Jane Ambrosio and Alyanna Cosme set a new record when they emerged grand winners in the "Junior Pinoy Henyo" segment of TV's long-running noontime variety show Eat Bulaga! last Saturday.
The two incoming Grade 5 students were able to guess eight words in only a matter of 2:04:37 minutes to win the P300,000 pot money.
Aubrey and Alyanna displayed similar wit and speed in the elimination round last Marso 30. In just 12.78 seconds, they were able to guess the word "owl." In the semi final round on Mayo 10, meanwhile, they were able to guess the word "alimasag" in a matter of 9.53 seconds. In the qualifying round last May 29, they posted 7.68 seconds for the word "malunggay."
Here are the two's winning record time and the words they were able to guess right: appendix – 40.26 seconds; Vatican City – 50.89 seconds; Bill Clinton – 1.01.12 minute; Compostela Valley – 1:16.57 minute; face – 1.25.42 minute; Ifugao – 1:37.23 minute; hintuturo – 1:51.96 minute; Israel – 2:04.37 minutes.
All in all, the two students went home with a whopping P505,000 from the elimination round to the grand finals. That's aside from their school getting an LCD projector or P500,000.00 total prize.
It isn't surprising that Aubrey and Alyanna should end up as "Junior Pinoy Henyo" champions. Based on their track records in kinder, prep and elementary, they had been consistent honor students.
They were both in the Top 10 honor roll from grades 1 to 4. Aubrey was a three-time Quiz Bee champion while Alyanna is a three-time first runner-up.
Both are also active participants in extra-curricular school activites as members of the Journalism Club, Wikang Panitikan Club, Student Catholic Action (Aubrey) and Math Club, Journalis Club and Girl Scout (Alyanna).
Aubrey is the youngest in a brood of three while Alyanna is an only girl with three brothers. Both are being sent to school by their respective titas.
Aubrey's parents, Wilfredo and Filipina Ambrosio, own a sari-sari store while Alyanna's parents, Aldrin (a former LRT train operator) and Aileen Cosme, are street food vendors.
Aubrey intends to use her prize money for her education while Alyanna plans to share her winnings and support her brothers' college education.
ADVERTISEMENT - CONTINUE READING BELOW