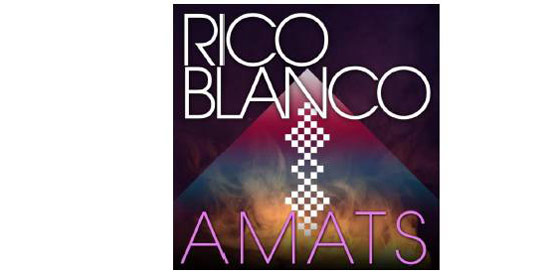 ---
Rico Blanco's brand new single, "Amats," will be simultaneously available on iTunes worldwide this Tuesday, June 12, in time for Philippine Independence Day.

"Amats" is the carrier single of Rico Blanco's forthcoming album under Warner Music Philippines.

An eerily compelling song of infatuation that's borderline stalker-ish, "Amats" contains a barrage of Ati-atihan drums and the beeps and screeches of analog synths.

Rico reveals that "'Amats' was originally written for a band, major chords, pop rock—the kind of song you'd expect from me, melodic, sweet…then I wondered, what if I make it dark, talagang amats? It becomes more dangerous… [to make] you feel on edge, uncomfortable. I wanted it to be in your face, like a stalker you want to get rid of."


Also watch out for the CD and digital album release on iTunes of GalactikFiestamatik on July 10, brought to you by Warner Music Philippines.
SHARE THIS STORY " data-url="https://www.pep.ph/guide/at-a-glance/10394/rico-blancos-amats-will-be-available-on-itunes-starting-june-12" data-desc=""Amats" is the carrier single of Rico Blanco's newest album." data-image="https://contents.pep.ph/images2/guide/1339414772_rico-b-amats-cd-cover.jpg"> " data-url="https://www.pep.ph/guide/at-a-glance/10394/rico-blancos-amats-will-be-available-on-itunes-starting-june-12" data-desc=""Amats" is the carrier single of Rico Blanco's newest album." data-image="https://contents.pep.ph/images2/guide/1339414772_rico-b-amats-cd-cover.jpg"> " data-url="https://www.pep.ph/guide/at-a-glance/10394/rico-blancos-amats-will-be-available-on-itunes-starting-june-12" data-desc=""Amats" is the carrier single of Rico Blanco's newest album." data-image="https://contents.pep.ph/images2/guide/1339414772_rico-b-amats-cd-cover.jpg">
SHARE THIS STORY
" data-url="https://www.pep.ph/guide/at-a-glance/10394/rico-blancos-amats-will-be-available-on-itunes-starting-june-12" data-desc=""Amats" is the carrier single of Rico Blanco's newest album." data-image="https://contents.pep.ph/images2/guide/1339414772_rico-b-amats-cd-cover.jpg"> " data-url="https://www.pep.ph/guide/at-a-glance/10394/rico-blancos-amats-will-be-available-on-itunes-starting-june-12" data-desc=""Amats" is the carrier single of Rico Blanco's newest album." data-image="https://contents.pep.ph/images2/guide/1339414772_rico-b-amats-cd-cover.jpg"> " data-url="https://www.pep.ph/guide/at-a-glance/10394/rico-blancos-amats-will-be-available-on-itunes-starting-june-12" data-desc=""Amats" is the carrier single of Rico Blanco's newest album." data-image="https://contents.pep.ph/images2/guide/1339414772_rico-b-amats-cd-cover.jpg"> " data-url="https://www.pep.ph/guide/at-a-glance/10394/rico-blancos-amats-will-be-available-on-itunes-starting-june-12" data-desc=""Amats" is the carrier single of Rico Blanco's newest album." data-image="https://contents.pep.ph/images2/guide/1339414772_rico-b-amats-cd-cover.jpg">