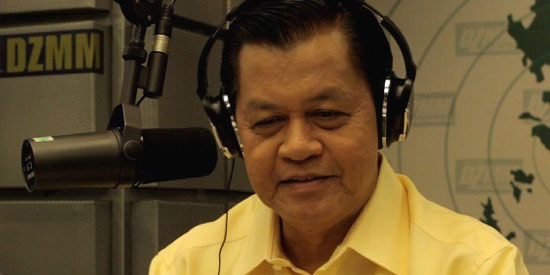 ---
Noli de Castro's Kabayan won a Bronze World Medal in the Public Affairs Program category of the prestigious 2012 New York Festivals.

The gala night was held last June 18 at the Manhattan Penthouse in New York City.

Kabayan is the only Philippine radio program included in this year's edition of the International Radio Program & Promotions Awards of the NYF. This DZMM radio program was honored for its coverage of the plight of the Overseas Filipino Workers (OFWs) caught in the recent conflict in Syria.

According to Kabayan Noli, the award is proof that DZMM performs its duty to serve Filipinos wherever they are in the world. "DZMM's principle is to be the voice of the Filipino people. This is the type of public service we provide – whenever and wherever you are, you have a compatriot you can rely on," he said.
He also added that the recognition from the international award-giving body highlights the significance of helping OFWs who suffer and are in danger.
"The painful truth is that many Filipinos work overseas to provide for their families. But we at DZMM will continue to protect the welfare of our modern day heroes," he said.
Meanwhile, The Tragedy of Bataan earned a Gold Radio award in the History category.

Featuring narration by Hollywood actor Alec Baldwin, this documentary chronicles the Bataan Death March during World War II.

It was produced by Jan Thompson whose father was a prisoner of war who surrendered on Corregidor, but was not in the Bataan Death March.
The story includes the personal accounts of nearly two dozen survivors who survived the agonizing 65-mile Death March following the fall of the Philippines to the Japanese in 1942.
This year, 37 Gold, 44 Silver, and 45 Bronze trophies were awarded to entries from 28 countries around globe.

For 53 years, the NYF International Radio Program & Promotion Awards has given honors to outstanding radio programs in all lengths and formats from radio stations, networks and independent producers from around the globe.
ADVERTISEMENT - CONTINUE READING BELOW