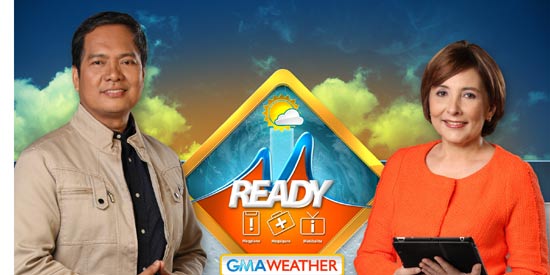 ---
In the Philippines, where heavy typhoons and monsoon winds are a common occurrence, fast, accurate and credible weather forecasts are crucial.

Knowing fully well that weather is serious business and should not be taken lightly, GMA News and Public Affairs, launches GMA Weather, a comprehensive and reliable weather information source on Philippine television.
Delivering your daily dose of weather news on 24 Oras and Unang Hirit is resident meteorologist Nathaniel "Mang Tani" Cruz. Mang Tani returns to the Philippines from a two-year stint as a meteorologist for Australia's national weather, climate, and water agency, Bureau of Meteorology. He is also the former deputy administrator for PAGASA.

With "Mang Tani," GMA claims to be the only Philippine television station to have a resident meteorologist.

Also sharing her expertise for GMA Weather is weather analyst, Karen Cardenas. Cardenas is the science journalist behind the popular blog and Facebook page, K's Weather and More.
According to Marissa L. Flores, Senior Vice President for GMA News and Public Affairs, "GMA Weather is committed to providing viewers with a clearer and complete view of the weather. We want to elevate weather reporting in the Philippines and make viewers really understand how the weather works by introducing concepts like rain probability and feels like temperature, among others, through unique and creative visualization tools."

GMA Weather is powered by Weather Central, a company known to deliver weather solutions to screens of every type. Founded in 1974 by meteorologists, broadcasters, and computer scientists based in Madison, Wisconsin, Weather Central is widely regarded as the most-viewed weather system in the world. With its exclusive, patented MagicTRAK® interactivity, Weather Central allows GMA Weather to deliver a weather story like never before, highlighting key weather events and showing the viewer exactly how the weather will impact their lives.


It also prides itself with VividCast, 1km downscaled data which is the highest resolution model data available in broadcast history. With sixteen times more detail than any other broadcast solution, it combines unmatched accuracy with the stunning visualizations of the Fusion™ weather presentation system.

As a major component of the GMA News Public Service campaign "I M Ready," GMA Weather also provides viewers constant and accurate weather updates via GMA and GMA News TV's news programs and other platforms including flagship AM radio station DZBB, GMA News Online, @gmanews on Twitter and facebook.com/GMANews on Facebook.
ADVERTISEMENT - CONTINUE READING BELOW