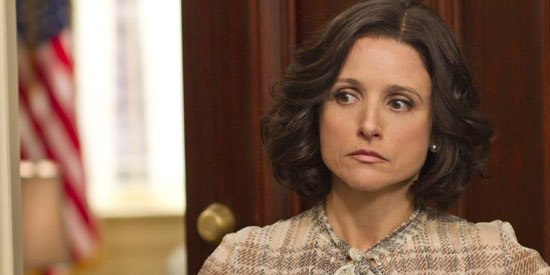 ---
Monday nights will not be the same again for ladies in the house as HBO offers three HBO original comedy series that tackle strong-willed women.


Veep, Enlightened, and Girls play back-to-back on HBO, starting with Veep at 10 p.m., Enlightened at 10:30 p.m.m, and Girls at 11 p.m. Or catch them earlier on HBO HD.

VEEP. Emmy winner Julia Louis-Dreyfus stars as Selina Meyer in Veep--the story of a woman who becomes vice-president of the United States only to discover that the job is nothing that she expected, but everything she was warned about.

Created by Oscar nominee Armando Iannucci, Veep follows the whirlwind day-to-day existence of Vice President Meyer as she puts out political fires, juggles a busy public schedule and demanding private life, and defends the President's interests, all as she tries to improve her dysfunctional relationship with the chief executive.

A brand new episode of Veep airs every Monday at 10 p.m. on HBO (9 p.m. on HBO HD).


ENLIGHTENED. Amy Jellicoe, an ambitious executive at a global conglomerate has been her own worst enemy for most of her adult life. Her self-destructive choices, both at home and at work, have resulted in a very public, humiliating nervous breakdown. After an extended stay at a treatment center in Hawaii, Amy returns to her fractured life, determined to lead a more enlightened existence but her newfound noble intentions only ratchet up the drama, wreaking unexpected havoc on those around her.

A unique blend of comedy and drama, the ten-episode first season of Enlightened airs every Monday at 10:30 p.m. (9:30 p.m. on HBO HD).


GIRLS. Hannah, Marnie, Jessa and Shoshanna are trying to figure life out. They've been living in New York for a couple of years, but they're still not sure what they want--from boys, from each other, from themselves. And things are getting any clearer.

Created by and starring Lena Dunham, Girls takes a comic look at the assorted humiliations and rare triumphs of a group of girls in their early 20s. Dunham, Judd Apatow, and Kenni Konner executive produce the show, which airs on HBO at 11:00 p.m. every Monday (10:00 p.m. on HBO HD).



ADVERTISEMENT - CONTINUE READING BELOW