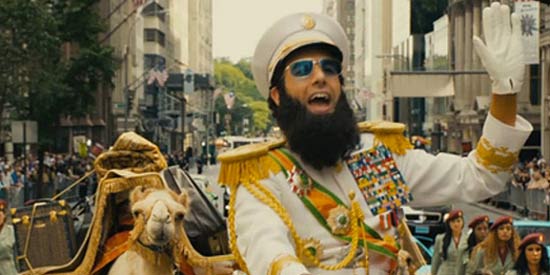 ---
Award-winning writer/performer/filmmaker Sacha Baron Cohen has made a living out of culture clash. Whether as a British Jamaican-wannabe rapper slash chat show host, a somewhat naïve Kazakhstani television reporter or an out and relatively out there Austrian fashionista, Baron Cohen is in the business of finding humor and revelation in the often uncomfortable collision of vastly differing viewpoints and lifestyles. His popular British television series made its wildfire way to the British movie screen.

This time, director Larry Charles again collaborates with Baron Cohen on his follow-up project via The Dictator. Larry Charles comments, "When we did Brüno, we were shocked because we had thought that after Borat, we'd never get away with it again."
Going in with the character of General Aladeen, however, was to be a different experience, and the "real" world was to be replaced with a facsimile of a real, scripted world—however, just outside of the borders of this fictitious North African country, a real world waits…

In this interview with Baron Cohen, the comedian assumes the identity of General Haffaz Aladeen while answering questions about his latest flick. This political satire is set in the fictional North African nation of Wadiya that is being run by General Haffaz Aladeen.
ADVERTISEMENT - CONTINUE READING BELOW
On the verge of being officially sanctioned by the United Nations, the General has announced his first trip to the U.S. to address these insults, slanders and charges.
"It is outrageous to call me a dictator. I am the undemocratically elected leader of my people. Actually, my full title is Admiral General Aladeen, Supreme Leader, Chief Ophthalmologist, Invincible, All Triumphant, Beloved Oppressor of the People of Wadiya…and excellent swimmer, including butterfly. I have 118 PhDs, and a diploma in spray tanning from the Qatar Community College."
Among the many charges being leveled at Aladeen are accusations of hostility toward neighboring nations. "I am not hostile. My country has existed for over seven million years, ever since the dinosaurs were wiped out by the Zionists. And during that whole time, we have never attacked another nation, unless it was an emergency or we were really bored. But who cares about the past? This is about the future," he hisses beneath his Versace sunglasses.
ADVERTISEMENT - CONTINUE READING BELOW
The flamboyant leader's arrival in the United States was in keeping with his larger-than-life personality, parading down Fifth Avenue astride a camel, while protestors lined the route. "I love America. It's a wonderful place. Death to the West. There are so many people here who love me. You know, outside the hotel there are supporters with signs saying Aladeen, Aladeen! I don't know what the rest of the sign says, but my PR minister tells me they are extremely flattering."
He pauses, then continues, "In Wadiya, there are no dissidents. The opinion poll says 112% of the population adores me, and 14% are indifferent. There are no dissidents, there are no protestors in my country. They are all foreign terrorist gangs."
ART IMITATES LIFE. Baron Cohen's prescience with regard to story and character proved preternatural – as work on The Dictator started in earnest months before the first demonstrations in the Middle East began a chain reaction of unrest, and long before the world had ever heard of (or used the phrase) "Arab Spring."
ADVERTISEMENT - CONTINUE READING BELOW
As usual for Baron Cohen, the character also needed to be grounded in truth. During the early stages of development, General Aladeen (Baron Cohen in full costume) was placed in several interview situations with people unaware of the ruse, and the resulting discussions were recorded. Larry Charles says, "Again, we were able to get away with it. It gave Sacha a chance to play with the character and interact in a spontaneous, improvised way.
Production of The Dictator began in Brooklyn, New York, in June of 2011. For the next three months the company visited four of New York's five boroughs, setting down in Manhattan, Brooklyn, Queens and Staten Island. The task of finding the various locations fell to production designer Victor Kempster and location manager Kip Myers.
Says Myers, "This particular film had a lot of locations already written into the script: the United Nations, a zoo, Fifth Avenue. But the idea of creating Wadiya in New York presented more of a puzzle."
ADVERTISEMENT - CONTINUE READING BELOW
And the tone of the film was very interesting, in that it was a funny political satire making use of all of his skills as a comedian," continues production designer, Victor Kempster. "But it also had a nice story and a rather graceful way to handle the comedy of it. In a way, there is a little bit of an old-fashioned story, but so up-to-the-minute, a fish-out-of-water. You have this completely insane character, whose relationship with the real world makes no sense. He's a complete narcissist and very bizarre. Then he's brought to New York, and he winds up in a totally unfamiliar world."
Reunited with Baron Cohen are multiple Borat and Brüno collaborators, including director LARRY CHARLES; screenwriter/producers ALEC BERG, DAVID MANDEL and JEFF SCHAFFER; producers TODD SCHULMAN and ANTHONY HINES, who are newly joined by producer SCOTT RUDIN. Also returning are executive producers MARI JO WINKLER-IOFFREDA, PETER BAYNHAM and DAN MAZER, with new executive producer ADAM McKAY.
ADVERTISEMENT - CONTINUE READING BELOW
Paramount Pictures Presents A Four By Two Films / Berg Mandel Schaffer / Scott Rudin Production: Sacha Baron Cohen, Anna Faris and Ben Kingsley star in The Dictator. The music is by Erran Baron Cohen. The costume designer is Jeffrey Kurland.
The Dictator, which is rated Rby the MPAA, is distributed in the Philippines by United International Pictures thru Solar Entertainment Corporation. Showing at your favorite theaters on July 25, 2012.