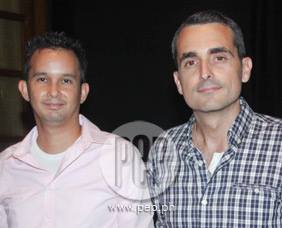 ---
Pre-production work on Give Up Tomorrow started in 2004 when two filmmakers conducted over a hundred interviews, resulting in 400 hours of footage.

Created by Filipino producer Marty Syjuco and American director Michael Collins, Give Up Tomorrow was produced in association with the BBC and the Sundance Documentary Film Program. It won the Audience Choice Award and a special jury mention in the world documentary competition of the 2011 Tribeca Film Festival.

The controversial documentary has already been shown in 25 countries before finally making its way back to the Philippines via the 8th Cinemalaya Philippine Independent Film Festival. It made its premiere in the country last July 22 at the Cultural Center of the Philippines.

The second screening of Give Up Tomorrow will take place at the CCP on Sunday, July 29, at 3:30 PM.

The power of Give Up Tomorrow lies in its ability to weave court evidence, witness accounts, media hype and legal technicalities into one comprehensive documentary.

The film tackles the incarceration of Francisco Juan "Paco" Larrañaga for the rape and murder of the Chiong sisters. Larrañaga is a great-grandson of the late Philippine President Sergio Osmeña.

On July 16, 1997, Marijoy and Jacqueline Chiong went missing. Jacqueline's body was found in a hurriedly-dug grave, while Marijoy's body was never found.
ADVERTISEMENT - CONTINUE READING BELOW
While the exact time of death and a lot of other facts were never conclusively determined, it was clear and undeniable that the sisters disappeared on July 16, 1997.

The name of Paco Larrañaga was included in a shortlist of suspects for the crime.

A scion of the prominent Osmeña clan, the then culinary student was 19 years old when he was arrested by Philippine police. Now 35 years old, Larrañaga is still imprisoned in a penal facility in Spain.

The Chiong rape-slay case was eventually described by the Supreme Court as Cebu's trial of the century.
During the course of the trial, 42 witnesses swore that they saw Paco on July 16 while the crime was allegedly happening in Cebu. His teachers, classmates and other staff members of his culinary school gave sworn statements that Paco was with them in Quezon City on July 16.

After attending classes and an exam, he was also with them to a party, which even had a photograph of him. The classmate who took the photo did so because his mom wanted him to "finish the roll of film."
ADVERTISEMENT - CONTINUE READING BELOW
All these evidence place Paco 300 miles away from Cebu on the day of the crime.

Cebu Regional Trial Court Judge Martin Ocampo refused to have the 42 or so witnesses willing to testify.

As a young child, Paco did not have a criminal record. The worst trouble that he ever got in were minor fights that boys of his age got in. The only witness ever produced by the prosecution was David Rusia, one of the co-accused who wanted blanket immunity in exchange for his testimony. It turns out that Rusia was already convicted of burglary and forgery and other crimes in the United States.

According to Rusia's testimony, Aznar and Adlawan were the ones who seized Jacqueline and Marijoy while the sisters were waiting for a ride home at the Ayala Center Cebu. Paco and the rest allegedly dumped the bodies in a ravine.

Rusia's testimony goes against school records, including flight and passenger logs, which places Larrañaga in Manila on the 16th and arriving in Cebu on the 17th.


COURT DECISIONS. On May 5, 1999, Cebu Regional Trial Court Judge Martin Ocampo found the seven guilty of kidnapping and illegal detention, and sentenced them to two life terms, instead of death.

Dubbed as the Chiong Seven, they are Paco Larrañaga, Josman Aznar, whose family owns several properties in Cebu, including the Southwestern University and Sacred Heart Hospital; Rowen Adlawan; van driver Alberto Caño; van conductor Ariel Balansag; and brothers James Andrew and James Anthony Uy.

On February 3, 2004, the Supreme Court affirmed the sentences handed down by Ocampo and imposed the death penalty on convicts Larrañaga, Aznar, Adlawan, Caño and Balansag.
ADVERTISEMENT - CONTINUE READING BELOW
FOUR-WEEK STAY TURNS INTO FOUR MONTHS. Paco's situation inspired both Michael Collins and Marty Syjuco, both New Yorkers, to come to the Philippines and produce a documentary even without having a background in journalism or filmmaking.

Collins recalled, "We were literally reading the camera manual on the plane teaching ourselves how to shoot on the flight here. As you know it's a long flight."

They initially planned to stay in the Philippines for just 4 weeks but they ended up staying for 4 months to gather the necessary footage for their project.

Marty is a distant relative of Paco (his brother Jaime is married to Paco's sister Mimi), a relationship that he never denied or hid.

Marty Syjuco told the audience, "Thank you to Cinemalaya for inviting us and to Doy Delmundo for programming this documentary section. Documentaries, it's our life and we're so happy to see that an audience is being cultivated here."
ADVERTISEMENT - CONTINUE READING BELOW
The documentary has been shown in film festivals all over the world before being screened in the Philippinesfor the first time this 2012.

"We had a world premiere at the Tribeca film festival in New York city over a year ago. Since then we've been traveling the world wherever God will give us a screen to Give Up Tomorrow. This moment bringing the film home to thePhilippines is a dream come true. I've never been so nervous in my life! It is our privilege to be here in thePhilippines, finally to stand here in front of you."
The case has received the interest of The United Nations Human Rights Council and has determined that, "there was insufficient evidence…amounted to a denial of justice." The state (which is thePhilippines) is "under obligation to provide an effective remedy including commutation of his death sentence and release within 90 days."
Needless to say the Philippine government has not heeded the UNHRC and Paco is still incarcerated. Sarah De Mas former deputy director of Fair Trials international could not understand how the Philippinescould resist international pressure when the "EU (European Union) have been pumping millions of dollars for its development."

The Department of Justice approved the transfer of Larrañaga to a penal facility in Spain to serve the remainder of his life sentence.

In fact, the filmmakers were onboard that same flight that brought Larrañaga to Spain.

When director Michael Collins was asked to recount Paco's reaction to the documentary, the director recalled, "It opened up some wounds but Paco said that he was able to sleep well after a long time."
ADVERTISEMENT - CONTINUE READING BELOW
The documentary has finally given Paco a face and a voice to defend himself. He wanted desperately to testify during his trial but was never given the chance.

Through the help of the filmmakers, Paco was able to film a video of himself wherein he describes his mental state inside prison. "I won't kill myself. I won't kill anyone else. I'm not looking for trouble. I'll survive and just think of today, next day the same. When someone wants to kill himself I tell him 'If you wanna give up, give up tomorrow. Today, do what you can to survive. That's what I tell them the next day and so on."

Aside from Give Up Tomorrow, otherthought provoking films such as Pureza: The Story of Negros Sugar by Jay Abello and God, Church, Pills and Condoms by Fritz Kohle are part of Cinemalaya's lineup being offered at the Cultural Center of the Philippines.

The second screening of Give Up Tomorrow will take place at the CCP on Sunday, July 29, at 3:30 PM.
ADVERTISEMENT - CONTINUE READING BELOW