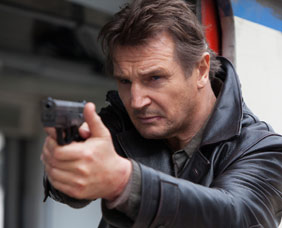 ---
The hit action-thriller Taken (2008) brought Liam Neeson's career to new heights when he became a relatable action hero. The multi-faceted actor gave life to Bryan Mills, the embittered former CIA man forcing his way into a dark sex cartel to save his kidnapped daughter.
Back for more carnage, Neeson reprises the role of Bryan Mills in Taken 2 shot in Istanbul. This action flick will also star Famke Janssen and Maggie Grace. Taken 2 reunites Neeson with his co-stars Famke Janssen and Maggie Grace, respectively, who play Bryan's estranged wife and his precious daughter.


"Bryan's a total superhero," says Janssen, weighing in on what made audiences connect with the first film. "Taken really came at a time when people needed that in their lives, because it's about family and protecting your family. He's a very American hero."
In this latest action-packed reel set against the backdrop of Istanbul, Mills is being followed by the Albanian goons determined to exact revenge on him and his family. In the lead to exact revenge on Mills is Murad (Rade Sherbedgia) who is the father of the kidnapper that Mills killed in the first movie. With Mills and his wife taken, Kim (Maggie Grace) is left to save her parents.
ADVERTISEMENT - CONTINUE READING BELOW
"I'm able to, in a very covert way, instruct her to find out where I am being held because a sack's been put over my head and I'm in the middle of a dungeon. It's highly impossible yet equally possible," Neeson is quoted as saying in an interview with Empire magazine.
Taken 2 opens nationwide in the Philippines on October 4, 2012 from 20th Century Fox to be distributed by Warner Bros.
Check out 20th Century Fox's trailer of Taken 2 here: http://www.youtube.com/watch?v=zI6u6YKeBho&feature=youtu.be