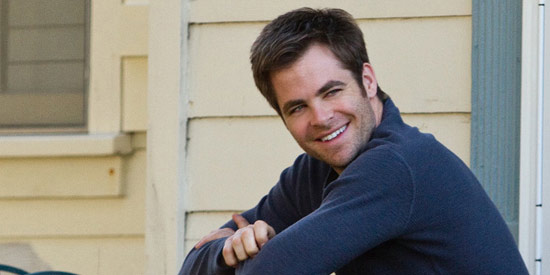 ---

PRESS STATEMENT FROM WALT DISNEY:

"American actor Chris Pine (Star Trek, This Means War) portrays a street-wise salesman who is suddenly confronted by a deep family secret, in DreamWorks Pictures' new drama comedy People Like Us.
"Also starring Michelle Pfeiffer and Elizabeth Banks, the film will be shown exclusively at Ayala Malls Cinemas (Glorietta 4, Greenbelt 3 & Trinoma) starting August 15.
"In People Like Us, Sam (Pine) finds his latest deal collapsing on the same day he learns that his father has suddenly died. Against his wishes, Sam is called home, where he must put his father's estate in order and reconnect with his estranged family. In the course of fulfilling his father's last wishes, Sam uncovers a startling secret that turns his entire world upside-down: He has a 30-year-old sister Frankie (Banks) whom he never knew about. As their relationship develops, Sam is forced to rethink everything he thought he knew about his family—and re-examine his own life choices in the process.
"After reading the script, Pine signed on for the role of Sam—a very different role from his previous parts. He recalls what drew him to the material: "As so often happens when you read good material, it doesn't take long after finishing the last page to realize that this will be a part of your life. I liked the balance of humor and anger…so many layers of emotion that had been packed down."
"Sam is a class-A bullshit artist with his work, with himself, with his girlfriend, with his life. He is Mr. Show," Pine describes. "He has created—because of a deep pain, a deep sense of abandonment—a wonderful, shiny, bright, big show that he sells to the world while he dies a little bit more every day."
"The filmmakers were very excited about casting Pine and his performance blew them away. "Chris' performance is a magic trick because his character makes every wrong decision and yet, at every turn, with every decision he makes, you're feeling for the guy," says writer-director Alex Kurtzman. "And that can only come from an actor who is both protective of the character and also incredibly appealing on screen."
ADVERTISEMENT - CONTINUE READING BELOW
"Kurtzman also gets kudos from Pine who appreciated his collaborative and inclusive style. The actor says, "I got great joy out of watching Alex direct for the first time, watching him bring to life something that was so emotionally impactful for him. But what I really want to stress is that Alex's greatest gift is his incredibly fine-tuned sensitivity. Alex was always inclusive. He always created a true sense of wanting to make it better communally. Work became this even playing field and he had the ability to not be precious about something that was clearly very precious to him."
"People Like Us is distributed by Walt Disney Studios Motion Pictures International through Columbia Pictures."



Ed's Note: When content falls under "Press Statement," this means that the material is fully and directly from the company issuing the press release. The use of open-and-close quotation marks to envelope the entire text shows as much. This also means that PEP is not the author of the statement being read. PEP is simply providing the information for readers who may be interested.