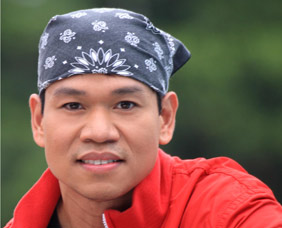 ---
Who would ever thought that after Typhoon Ondoy in 2009, floodwaters raging through the streets of the National Capital Region and nearby provinces could happen again?
But this time, there was no tropical storm—only torrential rains brought by the southwest monsoon enhanced by the typhoon Haikui positioned just outside the Philippine Area of Responsibility.
It dumped so much rainwater that the streets literally choked.
After three years, I-Witness revisits the devastated areas particularly in Marikina.
Residents of Provident Village were still recovering from the tragedy that submerged their houses underwater when another flood hit them.
This Monday night, August 13, join Jay Taruc and his group as they set out with a rescue team to patrol the whole village in a rubber boat. As they go further into the village, the water goes deeper. A woman, carrying a toddler, shouts for help. They are stranded on top of the roof, drenched and shivering. They never left their house for fear of someone breaking-in. Four more women and a dog emerge, all waiting to be saved.
ADVERTISEMENT - CONTINUE READING BELOW
According to them, this is worse than Ondoy. It seems that little is being done to effect change. Ever since the flood of 2009, the constant fear is eating them. For three years, they are still hoping for change.
Catch Jay Taruc's "Habagat" on GMA-7's I-Witness this Monday night after Saksi.
SHARE THIS STORY I-Witness
" data-url="https://www.pep.ph/guide/at-a-glance/10682/jay-tarucs-habagat-to-be-featured-on-i-witness" data-desc="Jay Taruc and his team patrol Provident Village in Marikina, which is flooded by monsoon rains." data-image="https://contents.pep.ph/images2/guide/1344827834_Jay-Taruc.jpg">
I-Witness" data-url="https://www.pep.ph/guide/at-a-glance/10682/jay-tarucs-habagat-to-be-featured-on-i-witness" data-desc="Jay Taruc and his team patrol Provident Village in Marikina, which is flooded by monsoon rains." data-image="https://contents.pep.ph/images2/guide/1344827834_Jay-Taruc.jpg">
I-Witness" data-url="https://www.pep.ph/guide/at-a-glance/10682/jay-tarucs-habagat-to-be-featured-on-i-witness" data-desc="Jay Taruc and his team patrol Provident Village in Marikina, which is flooded by monsoon rains." data-image="https://contents.pep.ph/images2/guide/1344827834_Jay-Taruc.jpg">
SHARE THIS STORY
I-Witness
" data-url="https://www.pep.ph/guide/at-a-glance/10682/jay-tarucs-habagat-to-be-featured-on-i-witness" data-desc="Jay Taruc and his team patrol Provident Village in Marikina, which is flooded by monsoon rains." data-image="https://contents.pep.ph/images2/guide/1344827834_Jay-Taruc.jpg">
I-Witness" data-url="https://www.pep.ph/guide/at-a-glance/10682/jay-tarucs-habagat-to-be-featured-on-i-witness" data-desc="Jay Taruc and his team patrol Provident Village in Marikina, which is flooded by monsoon rains." data-image="https://contents.pep.ph/images2/guide/1344827834_Jay-Taruc.jpg">
I-Witness" data-url="https://www.pep.ph/guide/at-a-glance/10682/jay-tarucs-habagat-to-be-featured-on-i-witness" data-desc="Jay Taruc and his team patrol Provident Village in Marikina, which is flooded by monsoon rains." data-image="https://contents.pep.ph/images2/guide/1344827834_Jay-Taruc.jpg">
I-Witness" data-url="https://www.pep.ph/guide/at-a-glance/10682/jay-tarucs-habagat-to-be-featured-on-i-witness" data-desc="Jay Taruc and his team patrol Provident Village in Marikina, which is flooded by monsoon rains." data-image="https://contents.pep.ph/images2/guide/1344827834_Jay-Taruc.jpg">