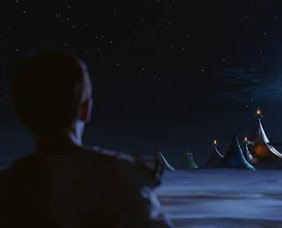 ---


Since 1984, Cirque du Soleil (French for "Circus of the Sun") has captured the imaginations of spectators for its creative and unique circus performances.


In 2013, moviegoers will get to appreciate these artistic and acrobatic performances through this fantasy movie.


James Cameron (the visionary behind Titanic and Avatar) and director Andrew Adamson (Shrek, Narnia) will bring the magic from the big top to the big screen through the 3D film Cirque du Soleil: Worlds Away.


A young couple must journey through the astonishing and dreamlike worlds of Cirque du Soleil to find each other, as audiences experience the immersive 3D technology that will allow them to leap, soar, swim, and dance with the performers.


Erica Kathleen Linz plays the young girl who enters the fantastical world of a surreal acrobatic troupe.


Philippine Release: February 27, 2013


Cirque du Soleil: Worlds Away is a United International Picture release through Solar Entertainment Corporation.