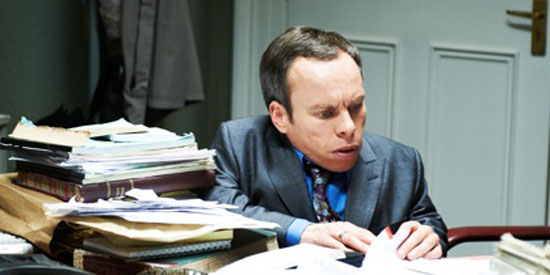 ---


PRESS STATEMENT FROM HBO:

"He's a self-aggrandizing actor who's appeared in some of Hollywood's biggest hits. But now his career is on the wane, and he'll do anything to reverse his fortunes.


"Life's Too Short is a faux documentary starring Warwick Davis (Willow, the Harry Potter and Star Wars films) as a fictionalized version of himself: a little person who's down on his luck, desperately trying to hustle and connive his way back into the spotlight.


"The comedy series kicks off its seven-episode season Monday, September 3, at 10pm, exclusively on HBO.


"In Life's Too Short, actor Warwick Davis is struggling to jumpstart his fading career and maintain his status as Britain's 'go-to' little person. He runs a talent agency for fellow showbiz little people called 'Dwarves for Hire,' though he often takes the best roles for himself, and serves as vice chairman of a society for small people, though he'd rather be chairman. Davis also seeks advice from his old pals Gervais and Merchant (playing versions of themselves) in hopes that their A-list celebrity connections will aid his career.


"Each episode features cameos by top stars, including Johnny Depp, Liam Neeson, Sting, Helena Bonham Carter, Steve Carell and Kat Deeley. Other cast regulars include Jo Enright as Davis' soon to be ex-wife Sue, Rosamund Hanson as his dim-witted assistant Cheryl, Steve Brody as his incompetent accountant and "EastEnders" actor Shaun Williamson as himself.


"Ricky Gervais and Stephen Merchant are the creators of the Golden Globe®-winning BBC comedy series The Office and the HBO series Extras and The Ricky Gervais Show. In addition to his feature film credits, Warwick Davis guest-starred on the series Extras.


"This program was created by Ricky Gervais, Stephen Merchant & Warwick Davis; executive producers, Ricky Gervais & Stephen Merchant; producer, Charlie Hanson.


"HBO Original Series Life's Too Short premieres on Monday, September 3, at 10pm exclusively on HBO / 9pm on HBO HD. Brand new episodes air weekly at the same time."


Ed's Note: When content falls under "Press Statement," this means that the material is fully and directly from the company issuing the press release. The use of open-and-close quotation marks to envelope the entire text shows as much. This also means that PEP is not the author of the statement being read. PEP is simply providing the information for readers who may be interested.
ADVERTISEMENT - CONTINUE READING BELOW