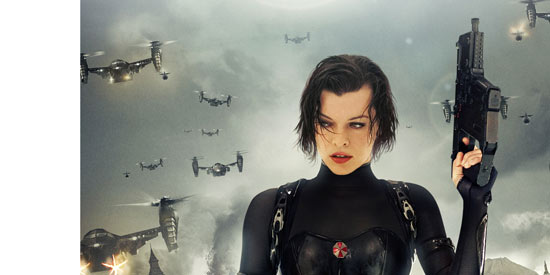 ---
PRESS STATEMENT FROM COLUMBIA PICTURES:



"As always, the central figure in the gritty and gripping fifth Resident Evil movie Resident Evil: Retribution is Alice, played once again with implacable ferocity by Milla Jovovich.

"In the film, the Umbrella Corporation's deadly T-virus continues to ravage the Earth, transforming the global population into legions of the flesh eating Undead. The human race's last and only hope, Alice (Milla Jovovich), awakens in the heart of Umbrella's most clandestine operations facility and unveils more of her mysterious past as she delves further into the complex.


"Without a safe haven, Alice continues to hunt those responsible for the outbreak; a chase that takes her from Tokyo to New York, Washington, D.C. and Moscow, culminating in a mind-blowing revelation that will force her to rethink everything that she once thought to be true. Aided by newfound allies and familiar friends, Alice must fight to survive long enough to escape a hostile world on the brink of oblivion. The countdown has begun.


"Doing this series has been such an adventure," the actress says. "It's always amazing to come back to this incredible, fantastical, magical world and to Alice. I know her so well now. I know how she will react, what she will and won't do. She's become a huge part of my life, and as I grow, she grows. I'm always excited to see where she's going next."

"Milla as Alice is a force to be reckoned with," says producer Don Carmody. "She is not only beautiful, she's also genuine and funny. People think of her as 'Milla Jovovich, the Russian supermodel,' but she's very down-to-earth, very accomplished and very dedicated. And nobody knows Alice better than she does."

"Alice was stripped of her superpowers in Resident Evil: Afterlife, a move that Jovovich believes was critical to the development of the character. "We've moved closer to the original Alice, who was a little more vulnerable," she says. "When she's in danger, the audience can be scared for her because she can't just make everything explode. She's still a badass, just not a superhero badass."
ADVERTISEMENT - CONTINUE READING BELOW

"As Alice becomes acclimated to being human again, she has to learn to trust and depend on those around her, adds Jovovich. "Without her superpowers, she doesn't feel as isolated. She feels more in touch with other people, and she has to be much more of a team player. And she has been able to acquire bit of a sense of humor about it all. If all you do is go around killing zombies and being chased by Umbrella storm troopers, you may as well take it with a wink and a smile."

"When director Paul W.S. Anderson talks about the actress, who is also his wife, it's clear she is his muse for the film series. "Over the last ten years, as this character has developed, we've had the opportunity to see her grow as Milla has," he says. "Alice was a blank slate in the first film because she had memory loss and knew nothing about herself. She has slowly gathered around her this family made up of other survivors of the apocalypse.

"This is a big step for her," he adds. "You see a lot of conflict come out of that because she is a hardened warrior who has sacrificed for the battle she's chosen to fight. She has given up family, friends and a future. Now, she is a slightly more complex character."

"Opening across the Philippines on September 12, Resident Evil: Retribution is distributed by Columbia Pictures, local office of Sony Pictures Releasing International."


Ed's Note: When content falls under "Press Statement," this means that the material is fully and directly from the company issuing the press release. The use of open-and-close quotation marks to envelope the entire text shows as much. This also means that PEP is not the author of the statement being read. PEP is simply providing the information for readers who may be interested.


ADVERTISEMENT - CONTINUE READING BELOW