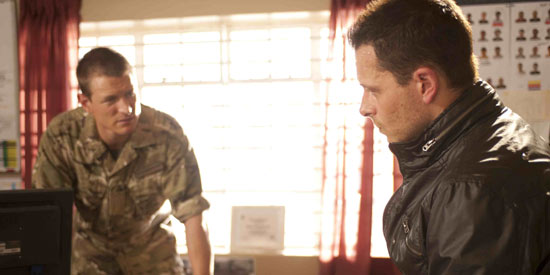 ---
PRESS STATEMENT FROM CINEMAX:


"The Emmy® nominated hit action drama series Strike Back returns for a second season on Cinemax starting this Friday, September 7, 2012 at 10 p.m.


"Rhona Mitra (Underworld: Rise of the Lycans) joins the cast this season, with Philip Winchester (Crusoe) and Sullivan Stapleton (Animal Kingdom) reprising their lead roles.
"A high-octane, globe-spanning thriller with storylines ripped from today's headlines, Strike Back is a 45-minute drama focusing on two members of a top-secret British anti-terrorist organization known as Section 20.


"It features Michael Stonebridge (Winchester), a married Brit who has moved from field work to training recruits as season two opens, and Damien Scott (Stapleton), a U.S. Delta Force operative, discharged on the eve of the U.S. invasion of Iraq, who made the most of his second chance to help Section 20 bring down an international terrorist last season.
"Again co-produced by Cinemax and the UK's Sky TV, the 10-episode second season follows Stonebridge, Scott and new boss Rachel Dalton (Mitra) as they scour Africa in pursuit of a fresh covey of criminals, each vying for possession of a box of valuable nuclear triggers that could launch Armageddon if they fall in the wrong hands.
"This new season of Strike Back will feature two previously unreleased songs from legendary singer-songwriter Bob Dylan's upcoming album Tempest, to be released on September 11. "Early Roman Kings" made its world premiere in a music video promo featuring scenes from the new season, which can be seen on cinemax.com, while "Scarlet Town" will be featured in the end credits.
ADVERTISEMENT - CONTINUE READING BELOW
"Rashan Stone (Episodes) and Michelle Lukes (Alexander) return as Sinclair and Richmond, as does Alexandra Moen (Hotel Babylon) as Stonebridge's wife Kerry. Guest stars include Charles Dance (Game of Thrones), Shane Taylor (Band of Brothers), Vincent Regan (300, Clash of the Titans) and Natalie Becker (Disgrace).
"Shot on location in South Africa for storyline locations including Kenya, Somalia, Mozambique, Algeria, Zimbabwe, England, and South Africa itself, the production works with a team of consultants who are in the field of counterterrorism and the military, contributing to the realistic tone of the show. In addition, the cast endured nearly a month of military training and tactics to prepare for the shoot.
"Cinemax's two seasons of Strike Back are a continuation of the six-episode Strike Back that aired on Sky TV in 2010 and are based on the novels by Chris Ryan, pen name of a real-life former British Special Forces operative.
"According to the Los Angeles Times, Stroke Back "shoots high with plenty of action and thrills and a simmering bromance that's fun to watch," while the New York Daily News hailed the series as an "unapologetic, fist-pumping non-stop action thriller." The Washington Post described the show as a "stylish and addictive new counterterrorism series."
"Strike Back is a Cinemax Presentation in association with British Sky Broadcasting Limited; a Left Bank Pictures Production; executive producers, Andy Harries for Left Bank and Huw Kennair-Jones for Sky; series producer, Michael Casey."


Ed's Note: When content falls under "Press Statement," this means that the material is fully and directly from the company issuing the press release. The use of open-and-close quotation marks to envelope the entire text shows as much. This also means that PEP is not the author of the statement being read. PEP is simply providing the information for readers who may be interested.


ADVERTISEMENT - CONTINUE READING BELOW