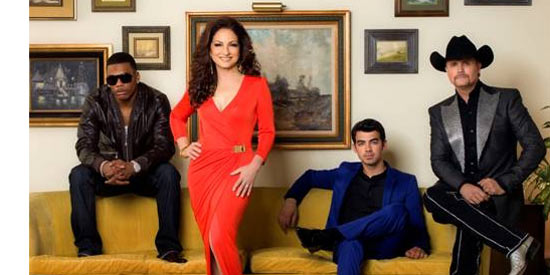 ---
PHOTO CAPTION: (L-R) Rapper Nelly, pop legend Gloria Estefan, Joe Jonas of The Jonas Brothers fame, and country star John Rich are mentors of the reality show The Next.




Unlike other reality singing shows on television ETC's new show The Next holds no auditions and has no judges. What it does have is star power.


Featuring Joe Jonas from the pop act The Jonas Brothers, rapper Nelly, pop legend Gloria Estefan, and country star John Rich as mentors, the four travel across the United States to find and groom up-and coming musicians so that they can take the next step in their career. The Next: Fame Is At Your Doorstep airs every Wednesday at 7 p.m. beginning September 12.


Traveling to the cities of Orlando, Baltimore, New York, Chicago, Dallas, and Los Angeles, the four mentors will find aspiring singers who have not only made a name for themselves in their home towns but also have a following on Twitter, Facebook or are regulars at the hottest clubs. The Next aims not to pluck aspiring singers from obscurity but to take proven artists and help them make the leap from local star to global sensation.


ETC will also be airing a locally produced lifestyle show called ETC HQ, which premieres on September 16, at 8:45 p.m. Get up to date on what's current and what's in through ETC HQ. It offers viewers the latest trends on all things that interest the stylish youth. This new program will be hosted by the stylish trio of Mike Concepcion, Julia Sniegowski, and Patti Grandidge.




ADVERTISEMENT - CONTINUE READING BELOW