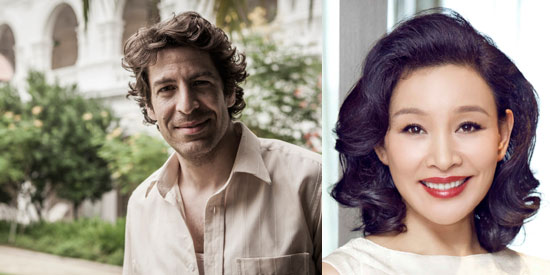 ---
PHOTO CAPTION: Don Hany (left) and Joan Chen (right) topbill the detective drama series Serangoon Road.




PRESS STATEMENT FROM HBO:


"In a major collaboration between ABC TV and HBO Asia, the cameras are currently rolling in Singapore for Serangoon Road, an Australia/Singapore prime-time drama co-production.


"The co-production companies participating in this series are Perth's Great Western Entertainment and Singapore's Infinite Studios. The financing partners include HBO Asia, ABC TV and ABC Commercial, ScreenWest, and international distributors Content Television and Digital, a division of Content Media Corporation.


"Serangoon Road is a ten-episode, hour-long fast-paced detective drama series set against the exotic, tumultuous backdrop of 1960s Singapore.


"It has attracted one of Asia's leading actors Joan Chen (The Home Song Stories; Red Rose, White Rose) along with Singaporean talents Alaric Tay (18 Grams of Love; The Noose) and Pamelyn Chee (Little Nyonya; The Princess of Nebraska). The show also features an Australian cast including Don Hany (East West 101; Jack Irish: Black Tide), Maeve Dermody (Rake; Bikie Wars: Brothers in Arms), Rachael Blake (Wildside; The Straits) and Michael Dorman (Daybreakers; The Secret Life Of Us).


"We're very pleased to be in partnership with ABC TV to produce HBO Asia's very first original series, the highest quality locally produced drama for our Asian audience," said Jonathan Spink, Chief Executive Officer, HBO Asia. "While HBO Asia is still in the business of delivering the biggest and best Hollywood blockbusters and series, this milestone investment marks the beginning of our commitment in producing top quality, relevant and riveting content."


"Kim Dalton, Director of ABC TV said, "This is a very significant collaboration between Australian and Singaporean producers that will create compelling drama from our region. We are very pleased to be working with HBO Asia on its first locally commissioned television drama series. ABC TV's work with Asian broadcasters, producers and funding agencies now extends across drama, animation and children's programming."


"Mike Wiluan, CEO, Infinite Studios said, "On behalf of Infinite Studios, we are excited to be involved in a major international co-production of this scale, particularly with a home-grown subject matter of such historical significance. We are thrilled to be bringing the drama of Serangoon Road to life within our studio facilities through the support of the Media Development Authority of Singapore's Grant Scheme. This project serves as an exceptional starting point for further international collaborations with our partners in the future."



SYNOPSIS


"Serangoon Road tells the story of Australian-born Sam Callaghan (Don Hany), whose childhood was spent in World War II's Japanese internment camps and who returned to fight in the Malayan Emergency. He is a man deeply scarred by both these experiences.


"When his neighbour Patricia (Joan Chen) asks him to help keep her recently-murdered husband's private detective agency afloat, Sam reluctantly agrees.


"So begins a journey that sees Sam enticed into an unpredictable, dangerous world where the Chinese Secret Society gangs fight to control the streets, foreign powers vie for power and covert intelligence, and the city itself is a hotbed of racial and political turmoil.


"His investigations, and his lover (Maeve Dermody), draw him into the privileged world of the European expats with their fading colonial attitudes, opulence and political intrigues.


"The detective agency's activities also quickly bring Sam and Patricia into conflict with some of Singapore's most powerful and ruthless factions – factions that are not afraid to kill to keep their secrets."


Ed's Note: When content falls under "Press Statement," this means that the material is fully and directly from the company issuing the press release. The use of open-and-close quotation marks to envelope the entire text shows as much. This also means that PEP is not the author of the statement being read. PEP is simply providing the information for readers who may be interested.



ADVERTISEMENT - CONTINUE READING BELOW