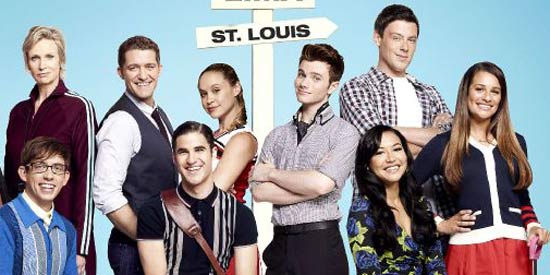 ---


PRESS STATEMENT FROM JACK TV AND ETC:


"Are you ready to take a bite of the Big Apple? Glee is back for their much-awaited fourth season where things definitely do not look the same. Watch the characters you love take on new adventures and new heartbreak as juniors become seniors, and seniors take on life after high school. The 4-time Emmy Award winner, Glee Season 4, returns to Jack TV and ETC this Friday, September 14, at 4 p.m. via satellite with a primetime telecast at 8PM.


"Last season, we left our favorite Glee Club at the train station as they bid Rachel goodbye as she boarded a train for New York to start her college experience at New York Academy of the Dramatic Arts (NYADA). As a new school year starts, we see her struggle to find her place in the Big Apple as she tries to keep up with the fast paced life of a college student and butts heads with a dance teacher who has it out for her.


"Back in McKinley, the returning members of the New Directions enjoy their celebrity status as reigning champions, however reality hits when they realize that popularity comes at a price. As the seniors compete against each other to replace Rachel as the team's headliner, Mr. Schuester holds auditions for new members and to his delight comes across a new group of interesting students that include Marley (Melissa Benoist) a spitting image of Rachel Berry, and Jake Puckerman (Jacob Artist), Puck's half-brother.


"Meanwhile, Kurt who was rejected by NYADA, finds it hard to adjust to his post-graduation life in Lima. While Brittany struggles as she repeats her senior year in high school as she finds a nemesis in the form of Kitty (Becca Tobin), a new cheerio who's on a mission to replace her as head cheerleader.


"Glee stars Matthew Morrison, Jane Lynch, Lea Michele, Cory Monteith, Amber Riley, Chris Colfer, Kevin McHale, Jenna Ushkowitz, Mark Salling, Dianna Agron, Heather Morris, Naya Rivera, Harry Shum Jr. and Darren Criss.


"And as if the cast of Glee isn't star-studded enough, Sarah Jessica Parker and Kate Hudson join the musical comedy this season for a multi-arc guest appearance.


"Glee Season 4 premieres this September 14 at 4 p.m. via satellite with a primetime telecast at 8 p.m. on Jack TV and ETC."


Ed's Note: When content falls under "Press Statement," this means that the material is fully and directly from the company issuing the press release. The use of open-and-close quotation marks to envelope the entire text shows as much. This also means that PEP is not the author of the statement being read. PEP is simply providing the information for readers who may be interested.


ADVERTISEMENT - CONTINUE READING BELOW