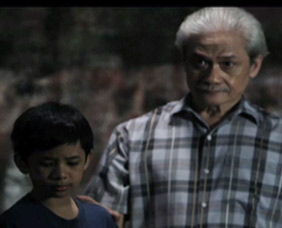 ---


PRESS STATEMENT FROM GMA-7:


"Starting Monday, October 15, GMA airs the fourth and final episode of the 2nd Kapuso Mini Sine Gustin.
"Inspired by true events, Gustin tells of two young boys, who unexpectedly dig up a handbag filled with money, while rummaging through old scrap to find things to sell. One of the boys, Gustin (Denzel Guiao), surrenders the handbag to their local Baranggay Captain (Pen Medina), who then gives back the bag to Gustin, and lets him decide on his fate.
"Upon overhearing his parents' conversation, Gustin finally decides on what to do with the handbag. Will he find himself taking the honest path once more, or will his family's financial condition keep him from doing so?
"The answer will be revealed this week in the finale episode of this Kapuso Mine Sine, which will run from Monday to Friday within Kusina Master,Sanaay Ikaw na Nga and Aso ni San Roque on GMA7. It can also be seen on GMA News TV within News to Go, Balitanghali, I JUANder, Tonight with Arnold Clavio, Fashbook, May Tamang Balita and Weekend Getaway.
"Gustin is an 8-minute short film conceptualized and produced by GMA's marketing arm, GMA Marketing and Productions, Inc., who was also behind the Busan International Advertising Awards-winning Christmas short film, Hating Kapatid.
"A 10-minute extended director's cut of the short film, along with a follow up report on the real Gustin will also air on October 21 on GMA's Sunday Night Box Office. The first three episodes are also available on GMPI's YouTube channel, www.youtube.com/user/GMAminisine."


Ed's Note: When content falls under "Press Statement," this means that the material is fully and directly from the company issuing the press release. The use of open-and-close quotation marks to envelope the entire text shows as much. This also means that PEP is not the author of the statement being read. PEP is simply providing the information for readers who may be interested.


ADVERTISEMENT - CONTINUE READING BELOW