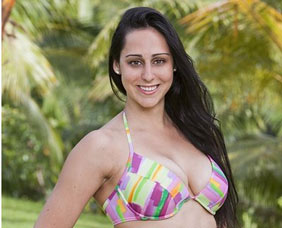 ---
Survivor: Philippines, shot at the breathtaking Caramoan Islands in Camarines Sur, will now air on its new timeslot every Thursday, 4 pm, beginning November 8 on GMA News TV.


Hosted by Emmy Award winner Jeff Probst, the latest season of CBS' Survivor is now down to the last ten castaways from the Dangrayne tribe: Malcolm Freberg, Abi-Maria Gomes, Jeff Kent, Jonathan Penner, Artis Silverster, Michael Skupin, Denise Stapley, Lisal Whelchel, Carter Williams, and Pete Yurkowski.


In last week's tribal council, it was a close fight between returning player Jonathan Penner and RC Saint-Amour. But the former Survivor: Cook Islands and Micronesia player was saved when he used his hidden immunity idol. Thus, RC was voted off and became the first jury member of Survivor: Philippines.


In a phone interview, RC said she never expected to be voted off. A release provided by GMA's corporate communications department quoted the former member of the Tandang tribe as saying: "I made a sound logical argument to the Kalabaw tribe for them to take me and Michael into the major alliance. So I knew I was getting vote but I never think that it would actually be my turn to go."


Nevertheless, RC is thankful for the experience and she described her Survivor adventure as "a once in a lifetime, amazing, beautiful adventure that I still have to pinch myself to actually remember all those amazing experiences. It was my dream to be in Survivor since it first started airing in Borneo. It was something I will cherish and feel very blessed that I ever got to experience."


ADVERTISEMENT - CONTINUE READING BELOW
The first jury member described Caramoan Islands as the "most picturesque, untouched thing I've ever seen in my entire life. We were so isolated, you just wake up and see those sunrises and sunset. I feel equally as privileged to be on Survivor as I did to experience it in the Philippines."


"I thank our Filipino viewers because they are vast supporters of Survivor and for all their support for letting us stay in the Philippines," added RC.


Asked for some of the things she learned in Survivor: Philippines, RC shared "to never give up, be nice to everyone, and be grateful to life."


Who among the remaining castaways will next join RC in the Jury Council? Find out in Survivor: Philippines every Thursday, now on its new timeslot at 4 pm beginning November 8, with replays every Friday, 10 pm, on GMA News TV.