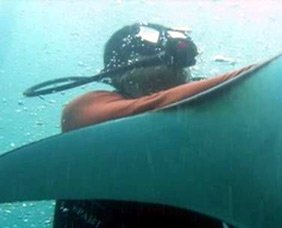 ---

PRESS STATEMENT FROM GMA-7:
"Last week, Doc Nielsen came face to face with "Fernando," a six-foot Philippine crocodile kept in captivity in Isabela after it became a nuisance to farmers. Doc Nielsen's inspection showed that the croc was in good health. But Doc is also eager to know whether Fernando's kin in the wild are also thriving as some years ago, a group of Philippine crocodiles was released in Isabela in hopes of increasing their critical numbers in the wild.
"This Wednesday, November 14, Doc Nielsen expects to find the Philippine crocodiles known locally as "bukarot" in their natural habitat.
"Meanwhile, Doc Ferds Recio and his team rushed to Bacon Bay in Sorsogon when they learned that seven rays were trapped inside a fishing pen. To their surprise, they were met with 13 rays struggling to break free from the net. In the midst of the rescue mission, Doc Ferds and the team likewise struggle in their effort to free these large rays before they run out of air underwater.
"As Doc and the team try their best to save the rays, these questions linger–what brings these majestic creatures to the area at this time of the year? And why are so many of them trapped in one fishing pen?
"Born To Be Wild's "Croc River" and "Ray Migration" continue this Wednesday, after Saksi."

Ed's Note: When content falls under "Press Statement," this means that the material is fully and directly from the company issuing the press release. The use of open-and-close quotation marks to envelope the entire text shows as much. This also means that PEP is not the author of the statement being read. PEP is simply providing the information for readers who may be interested.
ADVERTISEMENT - CONTINUE READING BELOW