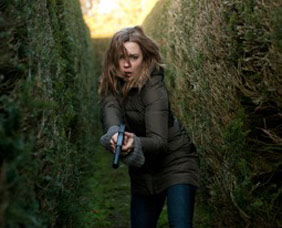 ---


PRESS STATEMENT FROM CINEMAX:


"From the writer and producer of X-Files, Frank Spotnitz, comes Hunted, an eight-episode drama set in the world of international espionage. Shot on location in Europe, two back-to-back episodes of this Cinemax Original Series will premiere in Asia on Friday, December 7, at 10pm on Cinemax.


"Golden Globe nominee Melissa George (HBO's In Treatment) stars as Sam Hunter, a skilled, gutsy operative for Byzantium, a secretive private firm involved in global intelligence and espionage. After surviving an attempt on her life that may have been orchestrated by members of her own team, she returns to work, but doesn't know who to trust.


"The cast of Hunted also includes Adam Rayner (Hawthorne, Dragon Age: Redemption), Stephen Dillane (HBO's Game of Thrones and John Adams), Stephen Campbell Moore (The Bank Job, The History Boys), Adewale Akinnuoye-Agbaje (Lost, Cinemax's Strike Back), Morven Christie (The Sinking of the Laconia), Lex Shrapnel (Captain America: The First Avenger), Indira Varma (Human Target, HBO's Rome), Dhaffer L'Abidine (Sex and the City 2) and Patrick Malahide (Billy Elliot, HBO's Five Days).


"In addition to Frank Spotnitz, who wrote four episodes and co-wrote another episode, writers on the series include Simon Allen (M.I. High), Smita Bhide (The Blue Tower) and Christian Spurrier (MI-5), who each wrote one episode, and Amira El Nemr (Luther), who co-wrote one episode. The directors for the series include SJ Clarkson (Life on Mars), Daniel Percival (Cinemax's Strike Back), James Strong (Downton Abbey) and Alrick Riley (MI-5), each of whom directed two episodes. The executive producers are Frank Spotnitz, Kudos' Alison Jackson, Jane Featherstone and Stephen Garrett; Christopher Aird and Polly Hill, executive producer for BBC One; Eliza Mellor produces.


"Hunted is produced by Kudos Film & Television (MI-5, Life on Mars) in association with Big Light Productions for CINEMAX and BBC One.


"The show marks the second recent original primetime series on CINEMAX, following the Emmy® nominated hit action drama, Strike Back, which was the first original primetime series on the network in more than 15 years, and has just ended its second season. The third original CINEMAX series to debut will be Banshee, which is executive produced by Alan Ball (True Blood)."


Ed's Note: When content falls under "Press Statement," this means that the material is fully and directly from the company issuing the press release. The use of open-and-close quotation marks to envelope the entire text shows as much. This also means that PEP is not the author of the statement being read. PEP is simply providing the information for readers who may be interested.


ADVERTISEMENT - CONTINUE READING BELOW