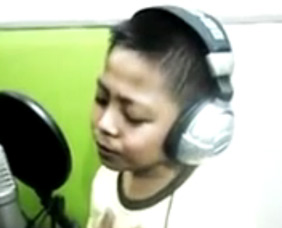 ---
PHOTO CAPTION: Harry Rodriguez is becoming popular on YouTube for his version of "Dance With My Father."



Kapuso Mo Jessica Soho (KMJS) moves to a new timeslot on December 2 at 7:45 pm.
There seems to be a nonstop trend of discovering new talents and celebrities who were initially popular online. Included in the list is the all male Pinoy dance group called Chicser, which is trending not only in Twitter Philippines, but worldwide as well. Another video that's going viral today is the clip of eight-year old Harry Rodriguez singing "Dance With My Father."
KMJS also goes to PUP for a taste of the newest and most unique street food in town—the differently colored "kwek-kwek" or quail eggs in Angry Birds style—the Angry Balls of PUP. In Tutuban, an explosion of flavors is what their street food promises: branded "dynamite" or cheese sticks mixed with chili. And a trip to the city of Zamboanga offers a feast on their famous pastil and satti.
With reports of scam and victims of it becoming frequent news items lately, most people are left with queries on how to know if it is safe to invest in any kind of money-making schemes today. For Filipinos, a popular way of saving money is through the "paluwagan" or pooled money system. But will this money saving strategy really help those who invest in it?
All these stories will be tackled by Kapuso Mo, Jessica Soho, winner of the 2012 PMPC Star Awards for TV Best Magazine Program & Magazine Show Host and 2012 PMAP Makatao Awards' Best Public Affairs Program & Best Public Affairs Host.
ADVERTISEMENT - CONTINUE READING BELOW
Airing right after Kapuso Mo, Jessica Soho is Imbestigador, bannered by veteran broadcast journalist Mike Enriquez.
With the constant increase of its price, consumers are finding it hard to buy whole tanks of LPG, thus the emergence of refilling stations for these tanks. In Malolos, Bulacan, consumers frequent a certain LPG refilling station despite Batas Pambansa 33 stating that refilling cylinders and tanks by auto-LPG plants is strictly prohibited and punishable by law.
Imbestigador looks deeper into the problem of why these illegal refilling stations continue to operate even after several warnings and reprimand from the authorities.


Meanwhile, in Meycauayan, Bulacan, Romualdo Lipata, the president of a drivers' association, leads a secret life. Unbeknownst to his allies, Lipata has multiple warrants of arrest from three different places. Will authorities finally track down Lipata who is wanted for theft, illegal possession of firearms and selling of illegal drugs?
Imbestigador airs this Sunday after Kapuso Mo, Jessica Soho on GMA-7.