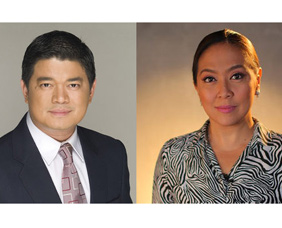 ---


PRESS STATEMENT FROM ABS-CBN:


"ABS-CBN News and Current Affairs launches an all-new weekday current affairs program in a revolutionary move to make public service more accessible to Filipino audiences.


"Beginning Monday (December 3), ABS-CBN's seasoned broadcast journalists will tackle real-life accounts of Filipinos and help in solving problems that affect their communities and families in Pinoy True Stories.

"This program will hunt and punish the offender, help victims, and teach a lesson or two. Through ABS-CBN's decision to place the new current affairs show on an earlier timeslot, we hope to make citizens better-informed, engage more viewers, and foster a dialogue of significant issues," said ABS-CBN News and Current Affairs head Ging Reyes.

"Julius Babao opens the week in the action-packed Bistado Monday to uncover cases of abuse, neglect or cruelty, as well as corrupt practices in the government and the various modus operandi of criminals.

"In Engkwentro Tuesday, Karen Davila mediates between clashing parties in relationships, families, and neighborhoods to help them resolve their conflicts and reach an agreement.

"News reporters Maan Macapagal and Dominic Almelor, meanwhile, lend a hand to people stuck in accidents, calamity, or the cycle of maltreatment in Saklolo Wednesday.

"Anthony Taberna provides the public legal help and advice in Demandahan Thursday to help solve the most problematic disputes in court.

"Explore mysterious phenomena in Atom Araullo's Hiwaga Friday where he unmasks the truth behind supernatural occurrences.

"Watch the pilot episode of Pinoy True Stories on Monday (December 3), 4:45 p.m. after A Gentleman's Dignity on ABS-CBN."


Ed's Note: When content falls under "Press Statement," this means that the material is fully and directly from the company issuing the press release. The use of open-and-close quotation marks to envelope the entire text shows as much. This also means that PEP is not the author of the statement being read. PEP is simply providing the information for readers who may be interested.



ADVERTISEMENT - CONTINUE READING BELOW