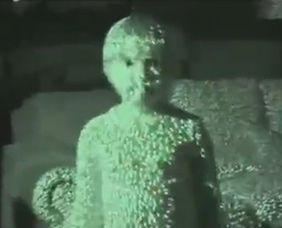 ---


Paranormal Acitivy 4 can be considered a sequel to Paranormal Activity 2.


ADVERTISEMENT - CONTINUE READING BELOW
It has been five years since the disappearance of Katie and Hunter. In the suburbs, a family witnesses strange events in their neighborhood when a woman and a mysterious child move in.


Early morning, Alex (Kathryn Newton) hears an ambulance outside at Robbie's (Brady Allen) house. The next day Robbie turns up at the house after Alex's mom Holly (Alexondra Lee) offered to look after him for a few days because his mother was brought to a hospital.



Later, Alex finds Wyatt and Robbie in her treehouse talking to Robbie's invisible friend. In the evening, Wyatt is playing multi-player on the Xbox Kinect by himself with Robbie sitting on the sofa.



The next day, Ben shows Alex that his computer automatically records their webcam chats and in the middle of the night while Alex was sleeping, Robbie came in and slept next to her. He suggests that he can set up laptops around the house to record everything. Over the next couple of days, strange occurrences happen around the house, such as Robbie waking up in the middle of the night and talking to the TV, Robbie and Wyatt running around the house in the early hours of the morning chasing a silhouette of a small child figure.



Robbie draws a strange symbol on Wyatt's back, which Alex later finds to be part of an old cult (first appeared in Paranormal Activity 3). One night Alex notices several black cars outside Robbie's house across the street; upon investigating, she discovers that there are several women in black garb entering the house. She is confronted immediately by one of these women and flees the scene. When alone in the house, Alex hears noises and follows them to the hallway where the chandelier falls down from the ceiling and smashes into the floor.



Far stranger and inexplicable things happen in the following days leading to a horrifying, hair-raising conclusion in Alex's life. Watch how this paranormal activity ends.



The thriller movie stars Katie Featherston, Kathryn Newton, Matt Shively, Alexondra Lee, Sprague Grayden, Brady Allen, and Aiden Lovekamp.



Paranormal Activity 4, produced by Paramount Pictures, is directed by Henry Joost and Ariel Schulman. It is distributed by United International Pictures thru Solar Entertainment Corporation.


Paranormal Activity 4 is still showing in cinemas.