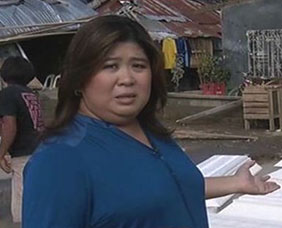 ---
This Sunday, December 9, on Kapuso Mo, Jessica Soho (KMJS), broadcast journalist Jessica Soho flies all the way to Compostela Valley to witness the massive destruction caused by Super typhoon Pablo.
Straight from Compostela Valley , Soho reports on the tragic fate of the Mindanaoans from the calamity—hectares and hectares of destroyed banana plantations, flashfloods with large rocks and logs, mudslides, communities wiped out, and helpless victims who lost not just their houses but their loved ones too.
KMJS will give accounts on the possible reasons of such tragedy giving the viewing public a better and closer perspective on the details of this unfortunate event.
KMJS has recently moved from its original Saturday schedule to a new timeslot on Sundays at 7:45pm. According to GMA's corporate communications department, the show continued to "reign over the weekend ratings game" despite its change of schedule, based on data from the industry's widely recognized ratings supplier Nielsen TV Audience Measurement.
According to Nielsen data, KMJS' Sunday debut on December 2 allowed the show to become the number one weekend program nationwide with 25 percent household rating (based on overnight data), leading all programs shown over the weekend.
As of December 6, KMJS has registered over 287,000 Facebook fans and 66,000 followers on Twitter.


This 2012, KMJS has received numerous awards from various award-giving bodies.


Last December 4, KMJS was recognized as one of the most well-liked TV programs in the Anak TV Seal Awards 2012. Meanwhile, host Soho was cited as the Top Female Favorite Makabata Star. The said award, which she received for the second time in a row, is given to television personalities that are worthy of emulation by children as determined by polls conducted nationwide of which adults are respondents.
ADVERTISEMENT - CONTINUE READING BELOW
KMJS was also cited as the Best Public Affairs Program during the recently held PMAP Makatao Awards for Media Excellence with Soho receiving recognition as the Best Public Affairs Host for the second time.
In addition to this, KMJS was given its 3rd Best Magazine Show trophy and Soho bagged her 4th recognition as Best Magazine Show Host in the 26th PMPC Star Awards for TV.
Soho also topped a nationwide survey on today's most popular and most trusted names on television along with fellow GMA News pillars Mike Enriquez and Mel Tiangco, according to a study by AGB Nielsen.
Also on feature on Sunday in KMJS are fun holiday destinations, mouth-watering Christmas cakes, and hotspots where budget-friendly presents can be found. Lastly, with this season comes a warning about the end of the world as the Mayan Calendar states that doomsday pushes through on December 21, 2012 with KMJS featuring both doomsday believers and skeptics.
Catch all these stories in Anak TV Seal recipient Kapuso Mo, Jessica Soho this Sunday, December 9, 7:45pm after Pepito Manaloto on GMA-7.