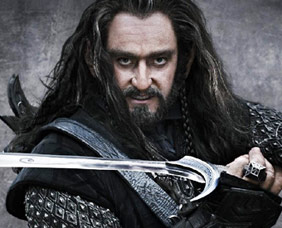 ---

PRESS STATEMENT FROM WARNER BROS:

"British actor Richard Armitage (Captain America: The First Avenger) is on the verge of Hollywood stardom as he portrays the legendary Dwarf warrior Thorin Oakenshield, in Peter Jackson's The Hobbit: An Unexpected Journey.

"Thorin is the direct descendent of the line of Durin, the Dwarf Kings of Middle-earth. He is also King-in-waiting to the throne of Erebor, who witnessed the kingdom's destruction under the dragon Smaug's terrifying onslaught, losing both his father Thráin and grandfather Thrór in the aftermath.

"Thorin inherited a quest of vengeance from his father, to reclaim what's theirs and take his people back to Erebor," Armitage says. "And that burden is quite a lonely thing to carry. Thráin disappeared trying to do the same thing a hundred years ago. So Thorin feels like it's now or never. I think he's like a dying ember. He has the potential to reignite into a huge furnace, but if he doesn't do it now, that ember will die.

"Interestingly," Armitage adds, "the translation of Thráin is 'yearner' and Thorin is 'darer.' Thráin is the one that yearned for it, but wouldn't achieve it. Thorin is the one that would dare to do it."

"Thorin is an extremely noble and flawed character," comments producer-screenwriter Fran Walsh. "His is a tragic story and very moving. He is fighting for his people, who were rendered homeless and wandered without status for so many years. His story is about Erebor and his dream of fulfilling that homeland."

"Handsome, regal, and tall for a Dwarf, Thorin is a brave leader worthy of respect. But, rather than rallying an army around him, he has only managed to raise an eclectic collection of 12 Dwarves. "There is always building within him this paranoia that he's not a good enough leader, and that weighs him down," Armitage says. "I have experienced that same feeling as an actor in this role. There were times when I felt like I was on very shaky ground. But what I find fascinating about working with Peter is that he has the whole film in his head, so you know you're in safe hands. He knows the character better than I do, and the subtle guidance that he gave me just filled me with confidence."
ADVERTISEMENT - CONTINUE READING BELOW

"The gravity of his journey made Thorin's casting particularly crucial for the filmmakers. "Thorin is the leader of this band of Dwarves, and we needed someone who inherently had that strength and authority," Jackson comments. "And those qualities are very much reflected in the way Richard completely owns the character of Thorin. He's the most wonderfully quiet person in real life, and yet when he steps into the boots of Thorin Oakenshield, he totally takes control of that group."

"Richard Armitage has been a favorite of critics and audiences alike in the UK for several years. With several highly anticipated projects upcoming in the United States, Armitage is quickly rising as a leading man in Hollywood as well.

"Most recently, Armitage wrapped production on the upcoming tornado disaster film Black Sky, in which he stars opposite Sarah Wayne Callies. The Steven Quale-directed feature is due out in 2013. He also reprises the role of Thorin Oakenshield in the second and third installments of the trilogy, The Hobbit: The Desolation of Smaug and The Hobbit: There and Back Again.

"For his first U.S. film, Armitage appeared in 2011's Captain America: The First Avenger, directed by Joe Johnston. Armitage played Heinz Kruger, Captain America's nemesis.

"A production of New Line Cinema and Metro-Goldwyn-Mayer Pictures (MGM), The Hobbit: An Unexpected Journey will be released in the Philippines by Warner Bros. Pictures on Thursday, December 13, 2012.

"The second film, The Hobbit: The Desolation of Smaug, will be released on December 13, 2013, to be followed by The Hobbit: There and Back Again on July 18, 2014."


Ed's Note: When content falls under "Press Statement," this means that the material is fully and directly from the company issuing the press release. The use of open-and-close quotation marks to envelope the entire text shows as much. This also means that PEP is not the author of the statement being read. PEP is simply providing the information for readers who may be interested.
ADVERTISEMENT - CONTINUE READING BELOW