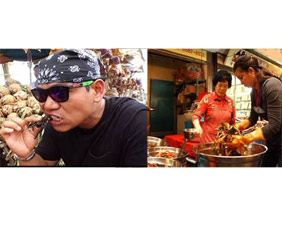 ---

PRESS STATEMENT FROM GMA-7:



"Tell me what you eat and I'll tell you what you are." --- Saverin, 1825
"Food may be man's most fundamental need, but in reality, it is so much more: food is an art form that expresses a nation's culture and defines their collective identity. In its preparation and presentation, food can narrate colorful tales of a country's rich history, peppered with both struggle and victory.
"This Sunday, GMA's SNBO presents a special episode of I-Witness featuring its hosts Sandra Aguinaldo, Jay Taruc, Kara David, and Howie Severino as they embark on a gastronomic mission to discover the unique culture and history of our Asian neighbors, one dish at a time.
"Sandra travels to Japan to meet a famous chef who is reviving the art of creating traditional sushi in Miyako City, more than a year after the brutal tsunami in Japan. She also gets to know a sake brewer who is also slowly beginning to rebuild his life and business in Morioka City.
"Jay then heads over to Cambodia, the Kingdom of Wonders, whose unique exotic dishes rival its magnificent temples built over the centuries. At night, the town of Siem Reap transforms into a market full of fried crickets, black spiders and water snakes. As Jay tries out these exotic foods, he discovers a bitter portion of Cambodian history: that with every bite is a story of survival of its people during the Pol Pot's regime.
"Kara discovers that South Korea's influence doesn't only lie in its music, but it can also be found in their rich authentic Korean cuisine, popularly represented by their national dish Kimchi. In her journey to South Korea, Kara will try to make her own Kimchi. She will also discover the importance of this dish in every Korean plate.
ADVERTISEMENT - CONTINUE READING BELOW
"The food trip ends in Howie's journey to the Venice of Asia--- Macau. Aside from its strong Portuguese influence, Macau is also considered as a melting pot of cultures. Macau 's rich history can be discovered through their food. Howie discovered a dish called African Chicken, a food that has been a product of cultural fusion.
"Experience the colorful cuisines and hear the tales they tell this Sunday, December 16, in I-Witness Presents: Food Trip!, on Sunday Night Box Office after Imbestigador only on GMA-7."


Ed's Note: When content falls under "Press Statement," this means that the material is fully and directly from the company issuing the press release. The use of open-and-close quotation marks to envelope the entire text shows as much. This also means that PEP is not the author of the statement being read. PEP is simply providing the information for readers who may be interested.