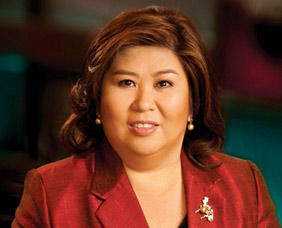 ---

PRESS STATEMENT FROM GMA:


"In 2012 – after only one year on the air – GMA News TV doubled its ratings and took home two Silver World Medals at the New York Festivals for its Front Row documentaries – more than any other Philippine channel. Anchor Jessica Soho of its flagship newscast State of the Nation was named Most Trusted News Presenter by Reader's Digest, among many other citations.

"During major news events the past year – including former Chief Justice Corona's walkout from the Impeachment Trial and the funeral of Comedy King Dolphy – GMA News TV's coverage surprisingly outrated media giants ABS-CBN and TV5 in Mega Manila.

"This 2013, viewers can expect even bigger things. GMA News TV launches game-changing, next level documentary series of a scale never before produced by GMA News and Public Affairs.

"KATIPUNAN is an 8 part historical docudrama on Andres Bonifacio, Emilio Aguinaldo and the Philippine Revolution. 2013 is the 150th anniversary of Bonifacio's birth and GMA News TV commemorates it with this powerful series. It will present history as it should be – unsanitized, no glossing over the heroes' errors and weaknesses. Dramatic scenes will be interspersed with historians' interviews. Actor Sid Lucero plays Andres Bonifacio while Mike Tan plays Emilio Aguinaldo. Set to air in the second quarter of 2013, Katipunan was created by Senior Program Manager Jaileen Jimeno and written by Suzette Doctolero of Amaya and Indio fame.

"BAYAN KO is a special, six-part dramatic mini-series that brings social realism back to local TV. It will present a fictional, newly elected mayor fighting a political dynasty, corruption and bureaucracy in his poor town. Bayan Ko will air beginning March 10, with Rocco Nacino in the role of Mayor Joseph Santiago, with Pen Medina as the Governor and Ping Medina as his congressman son. The series was created by GMA News TV Channel Head Nessa Valdellon.

"WAGAS: MGA KUWENTO NG TOTOONG PAG-IBIG will showcase unforgettable real life love stories. These will be dramatized by top GMA actors and will include a documentary portion and in-depth interview with the real couple. Some couples to be featured in this docudrama are Senator Miriam Defensor Santiago and husband Atty. Narciso Santiago, female DJ Nicole Hyela and fan-turned-husband Renly Tinana, Executive Chef Boy Logro and wife Ermilinda. The heartwarming series Wagas starts February 9 in time for Valentine's Day.

"Just last Friday, February 1, GMA News TV launched BIYAHE NI DREW which has ultimate tour guide Drew Arellano showing viewers the best way to experience a local travel destination within a limited budget.

"Most importantly, GMA News TV covers its very first election this 2013. Leading up to election day, GMA News TV also presents the much anticipated PAGSUBOK NG MGA KANDIDATO, where the Senatorial candidates will be asked to respond to challenging leadership scenarios live and KASAYSAYAN NG ELEKSYON – a powerful documentary on the controversial history of elections in the Philippines from the Tejeros Convention to the present day. Pagsubok ng Kandidato airs on February 16 and 23 while Kasaysayan ng Eleksyon airs May 5.


"GMA News TV Channel 11 is powered by the country's most awarded broadcast news organization, GMA News and Public Affairs."


Ed's Note: When content falls under "Press Statement," this means that the material is fully and directly from the company issuing the press release. The use of open-and-close quotation marks to envelope the entire text shows as much. This also means that PEP is not the author of the statement being read. PEP is simply providing the information for readers who may be interested.
ADVERTISEMENT - CONTINUE READING BELOW