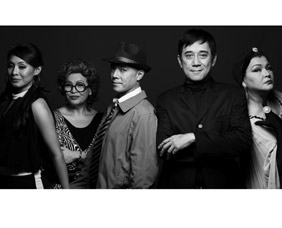 ---
PHOTO CAPTION: The cast of No Way To Treat A Lady: (L-R) Carla Guevarra-Laforteza, Sheila Francisco, Joel Trinidad, Audie Gemora and Pinky Marquez

PRESS STATEMENT FROM REPERTORY PHILIPPINES:


"An unsuccessful actor fixated on his late mother turns into a serial killer preying on older women who remind him of her. When he kills his victims, he leaves behind an unusual "signature": a pair of garish red lips on their foreheads!
"Veteran stage actor-director Audie Gemora returns to the stage in the role of Christopher 'Kit' Gill, the Broadway director and costumer whose obsession with his late actress-mother drives him to murder in the entertaining yet intriguing musical-comedy thriller No Way To Treat A Lady, Repertory Philippines' second offering for 2013.
"Based on the novel of the same title by William Goldman—who was inspired by the case involving the notorious Boston Strangler—No Way To Treat A Lady was made into a movie in 1968, starring Rod Steiger in the role of Gill. It received a Fred Ebb Award for Musical Theatre Songwriting and a Richard Rodgers grant. In 1987, Cohen adapted the film into a musical comedy which was revived off-Broadway by the York Theater Company in 1996 and nominated for an Outer Critics Circle award for Best Musical Revival.
"The book, music and lyrics of the musical were written by award-winning author/composer Douglas J. Cohen.
"The musical opens on March 1 with other shows on March 2, 8, 9, 15, 16, 22 and 23 at 8:00 PM; and March 2, 3, 9, 10, 16, 17, 23 and 24 at 3:30 PM. All performances are at Onstage, 2/F, Greenbelt 1, Makati City.
"Also starring in No Way To Treat A Lady are Carla Guevara-Laforteza as Sarah Stone; Sheila Francisco as Flora Brummel; and Pinky Marquez as Alexandra Gill. Stage actor Jamie Wilson is Audie's stand-in for the role of Christopher Gill.
"Joel Trinidad plays Morris Brummel, the NYPD detective assigned to investigate the murders. One day, Brummel receives a phone call that turns out to be from the murderer himself. That begins a strange yet intriguing game of cat-and-mouse in which Brummel cleverly tracks down the killer. How he realizes he's got his man is one of the things that make this musical-comedy thriller a must-see!
ADVERTISEMENT - CONTINUE READING BELOW
"Co-presented by the City of Makati, Ayala Malls, BusinessWorld, HerWord.com, Bizu, Liberating.Jepoy.com, No Way To Treat A Lady is directed by Audie Gemora, with Liesl Batucan as Assistant Director; Dingdong Fiel, Musical Director; Mio Infante, Set Designer; Raven Ong, Costume Designer and John Batalla, Lighting Designer. Artistic Director for Repertory Philippines is Baby Barredo."


Ed's Note: When content falls under "Press Statement," this means that the material is fully and directly from the company issuing the press release. The use of open-and-close quotation marks to envelope the entire text shows as much. This also means that PEP is not the author of the statement being read. PEP is simply providing the information for readers who may be interested.