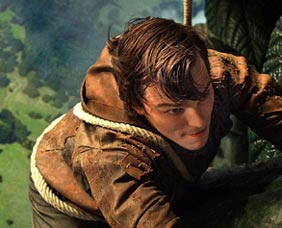 ---


PRESS STATEMENT FROM WARNER BROS:


"Nicholas Hoult is promoting his "zombie romance" film called Warm Bodies and the star was asked about all of his other projects.


"In an interview posted by Collider on Jan. 22, the X-Men: First Class star discusses his zombie role and the back story before moving to his next film Jack the Giant Slayer, which the actor says he's seen a few bits.


"I've seen a few clips from it. It looks pretty impressive," Hoult says before adding that the Giants have unique personalities and their 'world' is "pretty spectacular."


"Jack is one of several "big budget films" for Hoult who then comments on Mad Max: Fury Road, which wrapped for Hoult, director George Miller and his character Nux.


"It was fantastic. I mean, crazy. [I've seen nothing like it] the landscape, the vehicles, the stunts. George Miller is a fantastic director. I think it's going to be a really cool film."


Lastly, Hoult will be returning for the First Class sequel titled X-Men: Days of Future Past with Jack the Giant Slayer director Bryan Singer, who will be returning to the X-Men franchise.


"How Hoult and Beast figure into the story haven't been revealed.


"No, not yet. There's nearly a finished script and it's apparently looking very good and I'm looking forward to it.


"In Jack the Giant Slayer, an ancient war is reignited when a young farmhand unwittingly opens a gateway between our world and a fearsome race of giants. Unleashed on the Earth for the first time in centuries, the giants strive to reclaim the land they once lost, forcing the young man, Jack (Hoult), into the battle of his life to stop them. Fighting for a kingdom and its people, and the love of a brave princess, he comes face to face with the unstoppable warriors he thought only existed in legend… and gets the chance to become a legend himself.


"The film also stars Eleanor Tomlinson as Princess Isabelle; Stanley Tucci as the deceitful Lord Roderick; Ian McShane as the besieged King Brahmwell; Bill Nighy as the giants' leader, General Fallon; and Ewan McGregor as palace guard Elmont.


"A New Line Cinema presentation, in association with Legendary Pictures, Jack the Giant Slayer opens in the Philippines on February 28, 2013 and will be distributed by Warner Bros. Pictures, a Warner Bros. Entertainment Company."


Ed's Note: When content falls under "Press Statement," this means that the material is fully and directly from the company issuing the press release. The use of open-and-close quotation marks to envelope the entire text shows as much. This also means that PEP is not the author of the statement being read. PEP is simply providing the information for readers who may be interested.


ADVERTISEMENT - CONTINUE READING BELOW