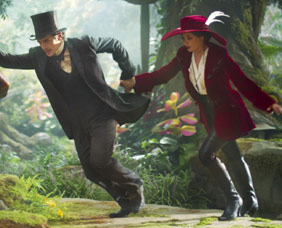 ---

PRESS STATEMENT FROM WALT DISNEY STUDIOS:


"Director Sam Raimi's new fantasy-adventure, Disney's Oz The Great and Powerful, imagines the origins of the beloved wizard character, who made his debut in author L. Frank Baum's first book The Wonderful Wizard of Oz. As a cinematic prequel to the book, the film explores the backstory of the wizard character and offers a unique, original movie-going experience.


"Baum, who wrote 14 novels between 1900-1920, all set in the fantasyland he so vividly created, never fully portrayed the wizard character's background in his books. "I love origin stories and I liked the idea of how the wizard came to be," says producer Joe Roth. "So, going back to Baum's books to research and imagine his beginnings seemed like a great idea."


"With Oz The Great and Powerful, Sam Raimi (the Spider-Man trilogy) tackles the biggest directorial project of his career, saying, "This is a very big picture, gigantic in scale. The world of Oz as Frank Baum created it has so many different countries and lands. It's an entire, fabricated world. As large as the Spider-Man films were, that was a fantastic character in a city we knew, Manhattan. It wasn't a created world. That's what Baum has done in his books. He's created this entire world of Oz."


"The imaginative story, with screenplay by Mitchell Kapner and David Lindsay-Abaire, follows Oscar Diggs (James Franco), a small-time circus magician with dubious ethics, who is hurled away from dusty Kansas to the vibrant Land of Oz. There, Oscar thinks he's hit the jackpot—fame and fortune are his for the taking—that is until he meets three witches, Theodora (Mila Kunis), Evanora (Rachel Weisz) and Glinda (Michelle Williams), who are not convinced he is the great wizard everyone's been expecting. Reluctantly drawn into the epic problems facing the Land of Oz and its inhabitants, Oscar must find out who is good and who is evil before it is too late. Putting his magical arts to use through illusion, ingenuity—and even a bit of wizardry—Oscar transforms himself not only into the great and powerful wizard but into a better man as well.


"Director Sam Raimi comments, "It's very interesting to me that we learn about this mysterious character of Oz, who is really an enigma in Baum's book. Who is this guy? How did he get there? How did he end up with this fantastic apparatus and become a ruler if he's a fake?"


"This film explains how all the characters became who they are and explains their origins so you understand them a little more," actress Mila Kunis observes. "It brings a little more sincerity and truth to all the characters. And, while being funny and endearing, it very much stays true to the original concepts that L. Frank Baum created."


"James Franco adds his take on the film, saying, "In some ways, the story in our film is a metaphor and an analogy to what we all do as filmmakers. Oz is a magician. He puts on shows. In the Land of Oz, he creates illusions for different reasons. And that's basically what a movie is, it's creating an illusion. It's creating an imaginary world for an audience."


"Oz The Great and Powerful boasts a stellar cast that includes Academy Award® nominee James Franco (127 Hours) as Oscar Diggs, the predestined wizard; Golden Globe® nominee Mila Kunis (Black Swan) as the tormented young witch Theodora; Academy Award® winner Rachel Weisz (The Constant Gardener) as Theodora's older sister, Evanora, the witch who rules over Emerald City; and three-time Oscar®-nominated actress Michelle Williams (Brokeback Mountain, My Week with Marilyn) as Glinda, the Good Witch.


"Raimi's cast also includes Emmy® and Golden Globe® nominee Zach Braff (Scrubs), who plays Franco's circus assistant while also lending his vocal talents to one of the CGI creatures in the story—Finley, the winged monkey, who accompanies the magician on his journey through Oz, serving as his sounding board and conscience; and 13-year-old actress Joey King (Ramona and Beezus), who voices another CGI character in the story, China Girl, the porcelain doll-like child who also joins the future Wizard on his fateful excursion through Oz.


"Oz The Great and Powerful was filmed in 3D using 3D cameras. This was a new experience for Raimi. Filming in 3D changed the way he worked with the camera—3D cameras are not as mobile and the director likes to move the camera around. "There are still times when I move the camera faster or am a little rough with it," says the director, "and the technicians don't want me manhandling those two lenses because they have to be in such perfect alignment."


"When moviegoers see the film, director Sam Raimi would like them to come to the theater expecting a big adventure and a story that they can connect with. "I hope they laugh and fall in love with the Wizard," says Raimi. "I hope they're terrorized by the Wicked Witch and the winged baboons. I think there are some surprises waiting for them down the Yellow Brick Road."


"Opening across the Philippines on Thursday, March 7, in IMAX 3D, Digital 3D and regular theaters, Oz The Great and Powerful is distributed by Walt Disney Studios Motion Pictures International through Columbia Pictures."


Ed's Note: When content falls under "Press Statement," this means that the material is fully and directly from the company issuing the press release. The use of open-and-close quotation marks to envelope the entire text shows as much. This also means that PEP is not the author of the statement being read. PEP is simply providing the information for readers who may be interested.


ADVERTISEMENT - CONTINUE READING BELOW