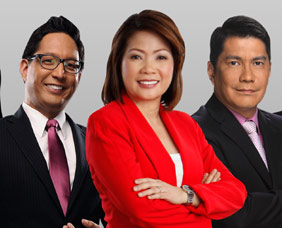 ---

PRESS STATEMENT FROM TV5:


"TV5 takes the lead in one of the most comprehensive coverage of the coming elections with the participation of highly respected private and civil society organizations in the Philippines to help provide the quickest polling and result updates come May 13. Dubbed Pagbabago 2013, the alliance of media-civil society and private groups was launched today with the signing of a Memorandum of Understanding (MOU) between the participating institutions led by NEWS5.


"TV5 chairman Manny V. Pangilinan, keynoted the event which gathered some of the biggest names in media, business and politics. Seasoned journalists and industry leaders came in full force to confirm their commitment towards the conduct of free and honest elections. Present during the launch were: the Commission on Elections (COMELEC, led by chairman Sixto Brillantes), the National Citizens' Movement for Free Elections (NAMFREL, represented by national chairperson Corazon de la Paz - Bernardo), Legal Network for Truthful Elections (LENTE, represented by acting executive director and acting national co-convenor Atty. Luie Tito Guia), the Parish Pastoral Council for Responsible Voting (PPCRV, led by chairperson Ambassador Henrietta De Villa).


"Also in attendance were the University of the Philippines – National College of Public Administration and Governance (led by Dean Professor Prospero De Vera), the Student Council Alliance of the Philippines (SCAP, represented by UP student council president Heart Diño), BusinessWorld (represented by executive editor Vergel Santos), i-Academy (represented by COO Vanessa Tanco-Cualoping), RMN (represented by President, Chairman and CEO Eric Canoy) and Chikka.

"NEWS5 has brought together a formidable coalition of independent organizations to help ensure that this year's elections are peaceful, honest and fair," said Mr. Pangilinan. "More than providing voters with information, Pagbabago 2013 urges all Filipino voters to actively participate in the electoral process and to remain vigilant in safeguarding their votes. At the end of the day, what we hope to attain is a conscientious electorate that are able to put their candidates into account for their promises of good governance even long after Election Day," he added.


ADVERTISEMENT - CONTINUE READING BELOW
"NEWS5 strongly advocates voter education and empowerment via truthful and complete information. As such, Filipino voters can count on TV5's Pagbabago 2013 as they protect and exercise their right to vote.

"Pagbabago 2013 demonstrates NEWS5's nation-wide reach in reporting the events surrounding the 2013 mid-term elections at the national, provincial, city and municipal levels. The Kapatid Network also assures the public that it will bring all election-related news and personalities to every Filipino voter living here and abroad across all available media platforms (print, television, radio, Internet and mobile). Through the technology prowess of telecommunication giants PLDT, SMART Communications, Sun Cellular and ePLDT, Filipinos around the world will be able to access Pagbabago 2013's real-time reports.


"During the event, NEWS5 also announced the start of Anong Aksyon Mo? an advocacy campaign that allows Filipino voters to hold their local officials accountable even after the elections are over. News magazine program Reaksyon will also help viewers know more about the personalities seeking seats in the Philippine Senate. Reaksyon presents Aplikante is a special series that features senatoriables being interviewed by a panel of veteran journalists led by NEWS5 chief Luchi Cruz-Valdes. Balwarte will also continue to document political families across the country, as it airs every Sunday night at 11:00 PM.


"In the lead up to Election Day, viewers will also get news via Pagbabago updates as they are broadcast over all of NEWS5's programs on TV5, AksyonTV and Radyo Singko. Pinoys on-the-go can also get news via InterAksyon.com on their computers and mobile devices."


Ed's Note: When content falls under "Press Statement," this means that the material is fully and directly from the company issuing the press release. The use of open-and-close quotation marks to envelope the entire text shows as much. This also means that PEP is not the author of the statement being read. PEP is simply providing the information for readers who may be interested.



ADVERTISEMENT - CONTINUE READING BELOW