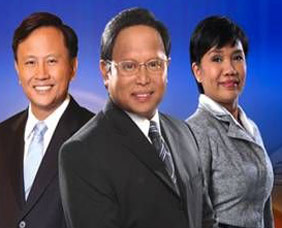 ---

PRESS STATEMENT FROM GMA-7:


"Tonight on Kandidato 2013: Senador, Sen. Chiz Escudero, Bro. Eddie Villanueva, and Atty. Marwil Llasos face an intense round of questioning from Arnold Clavio and Howie Severino.
After his annulment, how does Chiz Escudero now view divorce? What are his legislative plans should he win again? How do his various endorsements and co-hosting stint on a TV program affect his job? And up to what point must the public pry on his highly-publicized love life?


"Bro. Eddie Villanueva yet again runs for a seat in the Senate, this, after losing in the 2004 and 2010 presidential elections. What drives him to push his luck in politics? And as a leader of the Jesus Is Lord Church, what can he say about the separation of the Church and the State as indicated in the Constitution?
Are the voters ready for alternative candidates like Atty. Marwil Llasos? What does he want to change in the current state of the Senate in the country? What implications does his being a consecrated lay person pose in the policies he is to draft should he win? What is his opinion on significant laws such as the Comprehensive Agrarian Reform Program and the Cybercrime Law?


"Do not miss Kandidato 2013: Senador with veteran broadcaster Arnold Clavio and GMA News Online Editor-in-chief Howie Severino tonight, February 28, after Saksi on GMA-7."


Ed's Note: When content falls under "Press Statement," this means that the material is fully and directly from the company issuing the press release. The use of open-and-close quotation marks to envelope the entire text shows as much. This also means that PEP is not the author of the statement being read. PEP is simply providing the information for readers who may be interested.


ADVERTISEMENT - CONTINUE READING BELOW