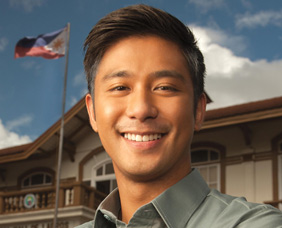 ---
CAPTION: Rocco Nacino is cast as a newly elected mayor fighting a political dynasty, corruption and bureaucracy in GMA News TV's mini-series Bayan Ko.




PRESS STATEMENT FROM GMA NEWS TV:


"Enter the fictional town of Lagros, where an idealistic new Mayor faces some very real problems.


"Mayor Joseph Santiago, played by Rocco Nacino, discovers a bunch of wayward employees have turned the municipal hall into a boarding house and, worse, have been making under the table deals at every turn. His efforts to fight corruption – both petty and large scale - are blocked by a political dynasty led by Governor Antonio Rubio and Congressman Anton Rubio, played by father and son tandem Pen and Ping Medina.


"Bayan Ko tackles serious matters with a touch of comedy -- and an unexpected romance -- but its primary goal is to bring political and social issues closer to the heart of regular viewers.
"We hope that through Bayan Ko, voters realize that good governance is not only possible but crucial to our progress and start to demand better performance from the officials they elect," says News TV channel head and Bayan Ko creator Nessa Valdellon.


"Bayan Ko, a groundbreaking television project and GMA News TV's 1st original series, is shot entirely on high definition and unlike most television dramas, goes through the color grading process. The six part series directed by Adolfo Alix Jr., airs Sundays at 6:30 PM starting March 10, only on GMA News TV Channel 11."


Ed's Note: When content falls under "Press Statement," this means that the material is fully and directly from the company issuing the press release. The use of open-and-close quotation marks to envelope the entire text shows as much. This also means that PEP is not the author of the statement being read. PEP is simply providing the information for readers who may be interested.



ADVERTISEMENT - CONTINUE READING BELOW