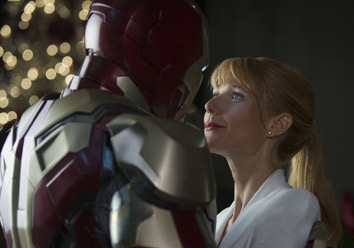 ---

PRESS STATEMENT


"If there is one person you can count on to be at the side of Tony Stark (Robert Downey, Jr.), it's the CEO of Stark Enterprises and live-in girlfriend Pepper Potts, reprised by Oscar®-winning actress Gwyneth Paltrow in Marvel's Iron Man 3.

"Tony and Pepper are very much in a relationship," relates Paltrow. "They're living together, as she's moved into his house in Malibu, and there's a lot of comfort between them now, so it's not the kind of tentative relationship they had in the first two films. It's very nice to have the relationship evolve over the course of a few pictures. Robert and I have always had a really great working relationship and it's nice to phase it into something new. There is still a lot of playful banter between the two, but it's less tenuous."

"There are scenes in the story between Pepper and Tony that are very emotional and loving in a fun way," adds producer Kevin Feige. "It was important to us that the relationship between Tony and Pepper carry through all four movies including Marvel's The Avengers and it sort of reaches its pinnacle in Iron Man 3 in a very memorable way."

"Tony Stark is the only Super Hero who has cultivated and maintained a long-term relationship with one woman that doesn't go entirely south," shares Robert Downey Jr. "It's more like a real relationship and that's what keeps this film interesting for Gwyneth. We address that elephant in the room this time and she has a pretty incredible arc, which is one of the things that I am most excited about."

"Reflecting on the journey of making Marvel's Iron Man 3, Gwyneth Paltrow says, "I think this movie ends in a really unexpected way and there's so much heart to it. It's about discovering yourself and what's really important. And, of course, it's done with all the fireworks and action and excitement, but there's real heart underneath it."

"Marvel's Iron Man 3 pits brash-but-brilliant industrialist Tony Stark/Iron Man against an enemy whose reach knows no bounds. When Stark finds his personal world destroyed at his enemy's hands, he embarks on a harrowing quest to find those responsible. This journey, at every turn, will test his mettle. With his back against the wall, Stark is left to survive by his own devices, relying on his ingenuity and instincts to protect those closest to him. As he fights his way back, Stark discovers the answer to the question that has secretly haunted him: does the man make the suit or does the suit make the man?

"Based on the ever-popular Marvel comic book Super Hero Iron Man, who first appeared on the pages of Tales of Suspense (#39) in 1963 and had his solo comic book debut with "The Invincible Iron Man" (#1) in May of 1968, Iron Man 3 returns Robert Downey Jr. as Tony Stark, the iconic Super Hero, along with Gwyneth Paltrow as Pepper Potts, Don Cheadle as James "Rhodey" Rhodes, Guy Pearce as Aldrich Killian, Rebecca Hall as Maya Hansen, Jon Favreau as Happy Hogan and Ben Kingsley as The Mandarin.

"Opening across the Philippines on April 24 in IMAX 3D, Digital 3D and regular theatres, Iron Man 3 is presented by Marvel Studios in association with Paramount Pictures and DMG Entertainment. Marvel Studios' President Kevin Feige is producing and Jon Favreau, Louis D'Esposito, Charles Newirth, Victoria Alonso, Stephen Broussard, Alan Fine, Stan Lee and Dan Mintz are executive producers. The film is distributed by Walt Disney Studios Motion Pictures."

Ed's Note: When content falls under "Press Statement," this means that the material is fully and directly from the company issuing the press release. The use of open-and-close quotation marks to envelope the entire text shows as much. This also means that PEP is not the author of the statement being read. PEP is simply providing the information for readers who may be interested.



ADVERTISEMENT - CONTINUE READING BELOW
SHARE THIS STORY " data-url="https://www.pep.ph/guide/at-a-glance/11734/gwyneth-paltrow-says-about-iron-man-3-this-movie-ends-in-a-really-unexpected-way-" data-desc="Iron Man 3 will open in Philippine cinemas by April 24. " data-image="https://contents.pep.ph/images2/guide/1365759196_gwyneth-paltrow.jpg"> " data-url="https://www.pep.ph/guide/at-a-glance/11734/gwyneth-paltrow-says-about-iron-man-3-this-movie-ends-in-a-really-unexpected-way-" data-desc="Iron Man 3 will open in Philippine cinemas by April 24. " data-image="https://contents.pep.ph/images2/guide/1365759196_gwyneth-paltrow.jpg"> " data-url="https://www.pep.ph/guide/at-a-glance/11734/gwyneth-paltrow-says-about-iron-man-3-this-movie-ends-in-a-really-unexpected-way-" data-desc="Iron Man 3 will open in Philippine cinemas by April 24. " data-image="https://contents.pep.ph/images2/guide/1365759196_gwyneth-paltrow.jpg">
SHARE THIS STORY
" data-url="https://www.pep.ph/guide/at-a-glance/11734/gwyneth-paltrow-says-about-iron-man-3-this-movie-ends-in-a-really-unexpected-way-" data-desc="Iron Man 3 will open in Philippine cinemas by April 24. " data-image="https://contents.pep.ph/images2/guide/1365759196_gwyneth-paltrow.jpg"> " data-url="https://www.pep.ph/guide/at-a-glance/11734/gwyneth-paltrow-says-about-iron-man-3-this-movie-ends-in-a-really-unexpected-way-" data-desc="Iron Man 3 will open in Philippine cinemas by April 24. " data-image="https://contents.pep.ph/images2/guide/1365759196_gwyneth-paltrow.jpg"> " data-url="https://www.pep.ph/guide/at-a-glance/11734/gwyneth-paltrow-says-about-iron-man-3-this-movie-ends-in-a-really-unexpected-way-" data-desc="Iron Man 3 will open in Philippine cinemas by April 24. " data-image="https://contents.pep.ph/images2/guide/1365759196_gwyneth-paltrow.jpg"> " data-url="https://www.pep.ph/guide/at-a-glance/11734/gwyneth-paltrow-says-about-iron-man-3-this-movie-ends-in-a-really-unexpected-way-" data-desc="Iron Man 3 will open in Philippine cinemas by April 24. " data-image="https://contents.pep.ph/images2/guide/1365759196_gwyneth-paltrow.jpg">