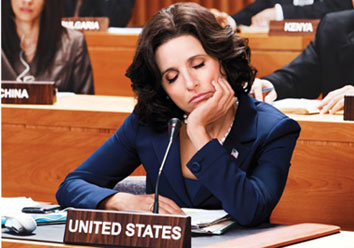 ---

PRESS STATEMENT FROM HBO:

"This highly-anticipated Emmy®-nominated HBO comedy series created by Oscar® nominee Armando Iannucci that skewers the nuances of everyday office politics – set against the backdrop of the second highest office in the United States kicks off its ten-episode second season on May 13 at 10pm on HBO / HBO HD, with new episodes airing weekly at the same time.

"VEEP follows the whirlwind day-to-day existence of Vice President Selina Meyer as she juggles her busy public schedule, puts out political fires, and defends the president's interests, even as she tries to improve her dysfunctional relationship with the chief executive.

"Picking up in the middle of midterm elections, this season finds Selina scoring slightly above-average ratings in several popularity polls, which she uses to increase her influence and to curry favor with the president and his new senior strategist Kent Davison (Gary Cole). But as we saw last season, even the most banal decision made by Selina and her staff can set off a ripple effect with unexpected and far-reaching consequences.

"Julia Louis-Dreyfus reprises her Emmy®-winning role as Selina Meyer, Vice President of the United States. The returning ensemble cast of the series includes Tony Hale as Gary, her right-hand man; Anna Chlumsky as Amy, her chief of staff; Matt Walsh as Mike, Vice President Meyer's weathered spokesperson; Reid Scott as Dan, an ambitious political aide; Timothy Simons as Jonah, a young and somewhat clueless White House liaison; and Sufe Bradshaw as Sue, Vice President Meyer's executive assistant. Guest stars on the new season include Gary Cole and Kevin Dunn.

"Last September, Julia Louis-Dreyfus received the Emmy® for Outstanding Lead Actress in a Comedy Series for the series' first season, with the series being nominated as for Outstanding Comedy Series as well.

"The new season of VEEP premieres on Monday, May 13 at 10pm exclusively on HBO / HBO HD. Brand new episodes air weekly at the same time."

Ed's Note: When content falls under "Press Statement," this means that the material is fully and directly from the company issuing the press release. The use of open-and-close quotation marks to envelope the entire text shows as much. This also means that PEP is not the author of the statement being read. PEP is simply providing the information for readers who may be interested.
ADVERTISEMENT - CONTINUE READING BELOW