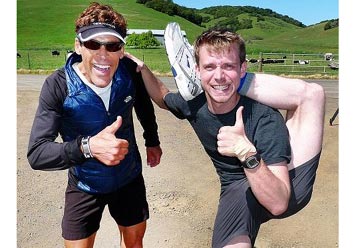 ---


PRESS STATEMENT FROM GMA NEWS TV:


"The thrilling journey into the farthest reaches of humankind continues on Stan Lee's Superhumans, airing Friday night on GMA News TV.

"Dean Karnazes is the real life Captain America – an ultramarathon runner. He runs distances far beyond a normal marathon and often in grueling environments – including 146 miles in the 120-degree heat of Death Valley and the minus 40 degree temperatures of the South Pole. In 2005, Dean ran non-stop for over 80 hours and 44 minutes, and in 2006 he ran 50 marathons, in 50 states in 50 days. His ability to just keep on running defies human biology.

"Professional Wrestler John Ferraro, a.k.a Gino Martino, is rumoured to have an indestructible head. John claims his super-strong skull can withstand blows, including impacts from sledgehammers, bowling balls and even jackhammers that would leave others unconscious or worse. But is it all just a clever illusion?

"Chris Robinson believes that his dreams are a window into the future. He says he started dreaming the future in 1986 when he dreamt about a radioactive cloud heading towards London. Two days later the Chernobyl disaster happened, sending a radioactive plume over most of Europe. From then on, Chris says he found that he could ask the dreams questions, and he started predicting major world events before they occurred: including 9/11. On this episode, Chris is put to the test.

"New Yorker Kenny Muhammad is said to be one of the planet's greatest beat boxers. His unique ability to simultaneously produce and overlay multiple wind, string and percussion effects with just his voice has earned him the name "The Human Orchestra." The speed, precision and clarity of the sound effects Kenny is able to generate shouldn't be humanly possible.

"Dubbed in Filipino, Stan Lee's Superhumans airs this Friday, May 31, at 8PM on GMA News TV Channel 11."


Ed's Note: When content falls under "Press Statement," this means that the material is fully and directly from the company issuing the press release. The use of open-and-close quotation marks to envelope the entire text shows as much. This also means that PEP is not the author of the statement being read. PEP is simply providing the information for readers who may be interested.


ADVERTISEMENT - CONTINUE READING BELOW