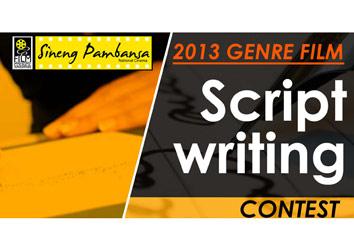 ---

The Film Development Council of the Philippines encourages all scriptwriters to join its nationwide "genre" scriptwriting contest.

The FDCP has now laid the groundwork for Sineng Pambansa National Film Festival for June 2014.

The festival will focus on "genre" filmmaking with 12 entries exploring the possibilities of an entire spectrum of cinematic types with wide domestic and global appeal. Scriptwriters can choose among action, comedy, fantasy, horror, thriller, futuristic and a hybrid of any two or three genres.

Twelve winners will be chosen and revealed on December 2013.

The FDCP will invite prospective independent producers, film studios and film divisions of TV networks with which a co-production agreement shall be proposed. The sole prerogative to conscript directors to interpret the films out of the winning scripts lies with the FDCP film committee in concurrence with the prospective co-producers.

The resulting films will be part of the official selection for the Sineng Pambansa National Film Festival of 2014 and shall be named "The Masters 'Genre' Film Festival."


A "competition" committee jury shall appropriately convene to select winners from all the submitted screenplays accordingly through meritorious process.


The winning scripts will be awarded cash prizes: the first six best with P200,000 and the next six with P100,000.


Entry forms and guidelines are available at www.fdcp.ph. The forms must be duly accomplished and submitted with the completed screenplay entry. The scriptwriters may also choose to submit the forms, without the completed entry, in order to accordingly signify an interest of participation.

No more than one entry will be accepted from each scriptwriter. No entry shall be accepted beyond the deadline.

Deadline for submissions is on 30 September 2013.


ADVERTISEMENT - CONTINUE READING BELOW