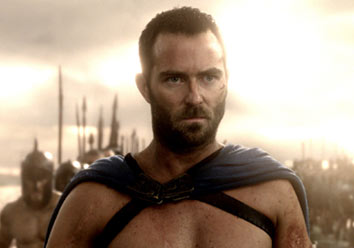 ---

PRESS STATEMENT FROM WARNER BROS:


"The new trailer for Warner Bros. Pictures and Legendary Pictures' eagerly anticipated action adventure 300: Rise of an Empire is now online and can viewed at http://youtu.be/FCGXfBOx_Ec.

"Based on Frank Miller's latest graphic novel Xerxes, and told in the breathtaking visual style of the 2006 blockbuster 300, this new chapter of the epic saga takes the action to a fresh battlefield—on the sea—as Greek general Themistokles attempts to unite all of Greece by leading the charge that will change the course of the war.

"300: Rise of an Empire pits Themistokles against the massive invading Persian forces led by mortal-turned-god Xerxes, and Artemesia, vengeful commander of the Persian navy.

"The film stars Sullivan Stapleton (Gangster Squad) as Themistokles and Eva Green (Dark Shadows, Casino Royale) as Artemesia. Lena Headey reprises her starring role from 300 as the Spartan Queen, Gorgo; Hans Matheson (Clash of the Titans) stars as Aeskylos; and Rodrigo Santoro stars again as the Persian King, Xerxes.

"The film is directed by Noam Murro, from a screenplay by Zack Snyder & Kurt Johnstad, based on the graphic novel Xerxes, by Frank Miller.

"Opening across the Philippines in March 2014, 300: Rise of an Empire will be distributed by Warner Bros. Pictures, a Warner Bros. Entertainment Company."



Ed's Note: When content falls under "Press Statement," this means that the material is fully and directly from the company issuing the press release. The use of open-and-close quotation marks to envelope the entire text shows as much. This also means that PEP is not the author of the statement being read. PEP is simply providing the information for readers who may be interested.