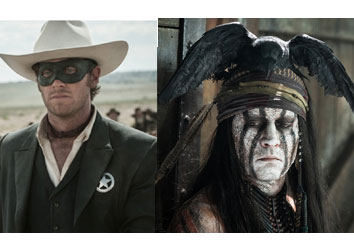 ---
Essentially, fabled Lone Ranger isn't really alone. In Disney/Bruckheimer Films' The Lone Ranger—a thrilling adventure infused with action and humor—our famed masked hero is joined by a gallery of beloved characters portrayed by a talented cast. Here are the characters of The Lone Ranger:


Tonto (Johnny Depp). A wandering Comanche, cast out from his tribe, Tonto rides alone in search of the two men responsible for the ruin of his village until his path fatefully crosses with that of the wounded young lawyer John Reid, whom he transforms into the Lone Ranger.

John Reid (Armie Hammer). When he boards a train home to Colby, Texas, ready to practice law with his East Coast degree, John Reid is a stalwart idealist, firmly opposed to the violent ethics of the frontier, where justice is regularly meted out by gunshot. Little does Reid know that a chance meeting with Comanche warrior Tonto, will set off a series of events that change him into the enigmatic hero, the masked Lone Ranger.

Latham Cole (Tom Wilkinson). A railroad man through and through, Latham Cole believes that a country's greatness lies in its ability to expand its borders to the furthest reaches—no matter what the cost.

Butch Cavendish (William Fichtner). Cavendish is a ruthless outlaw whose terribly scarred face is a perfect reflection of the bottomless pit that passes for his soul.

Captain J. Fuller (Barry Pepper). Cavalry officer and martinet, Captain Fuller is obsessed with his duty to God and country, which he equates, oddly enough, with hygiene and cleanliness.

Dan Reid (James Badge Dale). Referred to by Tonto as "Great Warrior," Dan Reid is a Texas Ranger in a class of his own, something his younger brother John has been painfully aware of all his life.

Rebecca Reid (Ruth Wilson). Made for finer things yet possessing the grit and independence of any frontiersman, Rebecca is a woman whose spirit is caught between two men, her husband Dan and his more refined younger brother John.

Red Harrington (Helena Bonham Carter). Red Harrington is the dramatically coiffed, straight-talking, ivory-legged proprietor of a mobile establishment of lavish entertainments.

Silver. A magnificent white stallion with a sense of humor all its own, Silver is, according to Tonto, the Lone Ranger's very special "spirit horse."


Opening across the Philippines on July 17, The Lone Ranger is distributed by Walt Disney Studios Motion Pictures International through Columbia Pictures.


ADVERTISEMENT - CONTINUE READING BELOW