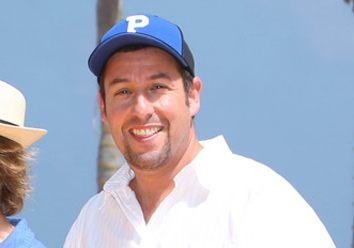 ---

PRESS STATEMENT FROM COLUMBIA PICTURES:


"Columbia Pictures' new comedy Grown Ups 2 reunites Adam Sandler, Kevin James, Chris Rock and David Spade from the original Grown Ups which grossed $271 million worldwide, making it Sandler's most successful film to date.

"Let's check on in the guys and how their characters have evolved since the 2010 film.


"ADAM SANDLER returns as Lenny Feder. Once a Hollywood big-shot, his most recent trip back to his hometown—allowing him to reconnect with his old friends—opened his eyes to what's really important in life. It's a lesson he didn't forget. "Lenny has quit his job as a Hollywood agent and moved the family back to his hometown," Dugan explains. "He wants the kids to grow up in a normal place, rather than the craziness of Hollywood."

"KEVIN JAMES plays Eric Lamonsoff, who has to face his ultimate fear in the movie. "One of the things the movie is about is these guys re-living their youth a bit, and now that they're grown up, they're facing up to the things they never dealt with when they were young," says James. "My guy is the one guy who never jumped off the huge cliff at the quarry back in the day. Lenny and the guys don't let me live it down… so when the challenge is put in front of me, I am forced to conquer the fears of my youth… or go to a diner, either one."

"CHRIS ROCK returns as Kurt McKenzie. A househusband in the first film, he's gone back to work in Grown Ups 2—not that you'd know it. "He's supposed to be a cable repairman, but—like all cable repairmen—he's figured out how to do as little real work as possible," Rock explains. "He gives you the window—'I'll be there between noon and four'—and then he waits for that one moment when you can't answer the door. Knock, no answer, and boom—he leaves the note, reschedule."

"DAVID SPADE's character, Marcus Higgins, gets a bit of a comeuppance in Grown Ups 2. "In the first movie, he discovered that the life he thought he wanted, single and free, wasn't as fulfilling as his friends', even though they were tied down with wives and kids," says Spade. "Well, in the sequel, he finds out that the free-and-easy life wasn't as free or easy as he thought—he has a son that he never knew about, and he's coming up to the town to spend some time with the father he never knew. Oh, and the kid is about 18 and enormous and knows how to hold a grudge."

"Opening across the Philippines on July 24, Grown Ups 2 is distributed by Columbia Pictures, local office of Sony Pictures Releasing International."


Ed's Note: When content falls under "Press Statement," this means that the material is fully and directly from the company issuing the press release. The use of open-and-close quotation marks to envelope the entire text shows as much. This also means that PEP is not the author of the statement being read. PEP is simply providing the information for readers who may be interested.


ADVERTISEMENT - CONTINUE READING BELOW